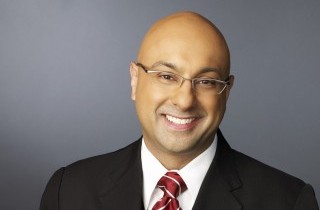 On Wednesday we reported that CNN's long-time reporter Ali Velshi was leaving the network for an undisclosed opportunity elsewhere. As it turns out, that job is hosting a 30-minute newsmagazine-style special for Al Jazeera America.
The "daily primetime business program" will initially launch in a weekly format, according to the network's press release, and will cover topics like "employment, personal finance, healthcare and education and will feature a mix of field reports, studio guests and interactive discussions designed to highlight how economic developments in the U.S. and around the globe affect the daily lives of Americans."
His last day with CNN will be tomorrow, Friday, April 5.
Ehab Al Shihabi, executive director of Al Jazeera international operations, said in a statement: "We are thrilled to secure Ali's extraordinary talents and services. Al Jazeera America will be bringing respected, independent reporting to its viewers and that's exactly the type of coverage Ali Velshi is known for."
"I'm thrilled to be joining Al Jazeera America, an organization that puts quality, fact-based journalism first," Velshi said. "It's a tremendous opportunity and I look forward to taking advantage of the extraordinary U.S. news-gathering capabilities the channel is building and working with such a diverse and talented group of colleagues to tell compelling stories that matter to Americans."
The network is set to launch this year with headquarters in New York City and bureaus around the country.
Earlier this year, Velshi talked to Mediaite about his thoughts on the "fiscal cliff" and how reporters should deal with politicians.
Have a tip we should know? tips@mediaite.com