Alisyn Camerota Attempts To Correct Michelle Malkin On Comments About 'Femme-agogue' Wasserman Schultz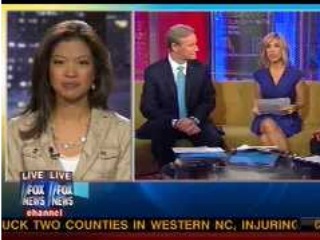 On Thursday morning, political commentator Michelle Malkin appeared on Fox & Friends to offer her take on, among other things, recent comments made by DNC chair Debbie Wasserman Schultz regarding civility, the Tea Party movement, and the shooting on Congresswoman Gabby Giffords in Arizona.
Interim host Alisyn Camerota played a clip of Wasserman Schultz discussing the lack of civility in Congress, saying that we need "to make sure that we tone things down. particularly in light of the Tucson tragedy from a year ago. I have noticed it takes a very precipitous turn […] towards edginess and a lack of civility with the growth of the Tea Party movement."
RELATED: Mitt Romney: 'I Feel Sorry For Debbie Wasserman Schultz'
After noting that it sounds like Wasserman Schultz is laying blame on the Tea Party, Malkin shared where, as she sees it, this increased "edginess" in Congress is really coming from:
After that soundbite that you included, there's a line that just really made me snort out loud where she said "I hesitate to place blame…" and then a half second of hesitation. "But I will anyway. I blame it all on the Tea Party movement." One thing that she is completely right about, of course, is that there has been a lot of edginess and lack of civility that has gone along with the rise of the Tea Party movement. But it hasn't come from — and it hasn't emanated from — the Tea Party activists themselves. It has been unhinged Democrats and femme-agogues like Debbie Wasserman Schultz who have used every opportunity to smear grassroots conservatives as the worst evil in this country.
"But, Michelle, just to be clear," Camerota added, "just to be clear, Debbie Wasserman Schultz says she was talking about blaming the Tea Party for the lack of civility. That's what she was responding to. She was not blaming them for the shooting of Gabby Giffords."
"Well, I think there's a lot of game playing going on there," Malkin replied. "And, of course, now she's protesting that she was taken out of context — something she's the queen of doing where it's clear there's a nexus she was implicitly trying to draw between the tragedy that was over-politicized from the very moment it was reported, between that and the Tea Party movement."
Watch, via Fox News:
Have a tip we should know? tips@mediaite.com