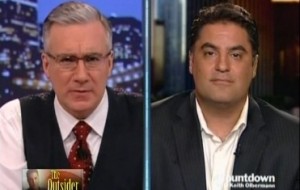 The fallout from Current TV's firing of Countdown host Keith Olbermann was bound to get ugly, but one particular section of Olbermann's lawsuit against Current is particularly unfortunate. In the suit, Olbermann trashes longtime booster Cenk Uygur, alleging that he opposed hiring The Young Turks' host, and then refused to promote TYT because "It Was Demonstrably Substandard." The numbers, and even the former Countdown host's own words, tell a different story.
As part of Olbermann's lawsuit against Current, he takes several nasty swipes at Cenk Uygur, who has been a longtime booster of Olbermann's. First, there's this:
…prior to launching "The Young Turks," Hyatt and Bohrman asked Olbermann about the possibility of hiring Cenk Uygur. Olbermann told them that he did not believe Uygur would be a good choice. Olbermann opined to Bohrman that Uygur had difficulty separating facts from things he wanted 10 be true. As Current's Chief News Officer, the credibility of the content shown on Current was directly associated with Olbermann. Additionally, Olbermann told Hyatt and Bohrman that when Uygur appeared on "Countdown," the day after Uygur's much publicized departure from MSNBC (at the height of his perceived popularity), the ratings on the Program had actually gone down during Uygur's segment. Of course, Current ignored the advice of Olbermann and hired Uygur to host a program that aired immediately before Olbermann's Program.
Stick a pin in that shot about the ratings. The suit goes on to allege that Olbermann refused to participate in The Young Turks' premier, repeating the same slam, adding that it was "reasonable for Olbermann to decline to be associated with a host with a questionable journalistic standard and a show that was not up to the standards expected by the 'Countdown' audience." Olbermann also refused to appear in promotional materials featuring his fellow Current hosts because they were, in his opinion, "low-quality programming."
There are a few problems with this. Elsewhere in Olbermann's suit, he criticizes Current CEO Jole Hyatt for purchasing cheaper, less comprehensive ratings data, yet (anecdotally) claims he was able to track a decline during a single segment of his program. In fact, during that very segment, Olbermann reported that Cenk's ratings at MSNBC topped those of his predecessor, called him the "primary figure in the influential radio and internet show The Young Turks," and praised Uygur's "very loyal audience."
Most damaging to Olbermann's claim that he campaigned against Uygur's hiring, though, was his sign-off during that segment, from the July 21 episode of Countdown. After lavishing Cenk with praise throughout, Olbermann offered, unprompted, that "We'll be in touch."
Here's the video of that portion of the segment, along with some comments from Cenk's October 19, 2010 guest-hosting stint on Countdown:
The only question now is which Keith Olbermann is a liar, the on-air Olbermann who practically offered Cenk a job on the spot, or lawsuit Olbermann. Maybe it's a bit of both. Current spokesman Chris Lehane says that the real reason for Olbermann's enmity toward Cenk will become clear soon enough. In a statement to Mediaite, he says "Keith Olbermann was such a Cenk fan that he both sought him out and suggested that Current hire Cenk to host the 7pm show leading into Countdown – that is until Cenk acted like the Young Turk he is and began passing Olbermann in the coveted Adult 25-54 ratings demographic. We will prove all this to be true in court – using Olbermann's own written words."
Indeed, even before Cenk's ratings victories over Countdown in the 25-54 demo, Current sources have been reporting for months that The Young Turks had been bringing even younger viewers to its lead-out. Rather than seeing this as a benefit, though, Olbermann seems to have viewed Uygur's success as a threat. While Cenk has declined to comment on the matter, this surely must come as a disappointment to him, but if there is any consolation to be had, it's that Keith Olbermann's petty, contradictory remarks about Cenk Uygur speak volumes about only one person: Keith Olbermann.
Have a tip we should know? tips@mediaite.com