All In Goes All In on Chris Christie: Chris Hayes to Host 11pm Bridgegate Special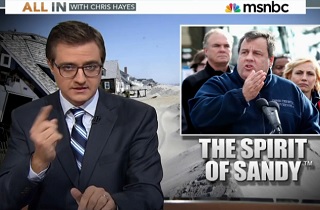 There are many questions swirling around about the ever-deepening Bridgegate scandal, and for the media, one such question is "how much is too much?"
The answer to that depends partially on who you ask, and partially on how this story evolves, but MSNBC's All In with Chris Hayes has provided its answer by lining up a special hour, Monday night, devoted to Christie and the reporting surrounding the scandal.
All In host Chris Hayes' colleague Rachel Maddow was an early adopter of the Bridgegate story, but Hayes' show has also followed the developments since before the rest of the world caught up last week, and has also tracked the Hurricane Sandy relief effort in New Jersey, now a source of speculation as other New Jersey mayors let the latest revelations marinate.
The day after Christie's overwhelming reelection victory, Hayes aired a report on the Governor's record with regard to Hurricane Sandy aid, including the millions spent on an ad campaign featuring Christie and his family, and the Christie administration's lack of transparency regarding the funds. He also interviewed Andrea Kassimatis, a Hurricane Sandy survivor from Union Beach who was still living in a trailer a year after the storm destroyed her home.
At the time, it may have seemed like sour grapes, but in light of the latest revelations, this segment now seems more relevant than ever and, according to Hayes, is one of the topics that will be revisited during tonight's special.
Here's that November 6 segment, from MSNBC's All In:
Have a tip we should know? tips@mediaite.com