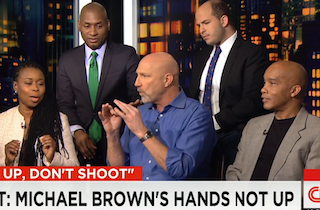 CNN tonight reevaluated "hands up, don't shoot" in the wake of the DOJ report that it never happened, and brought on a panel that nearly came to blows arguing over the report's findings and the "hands up" symbol.
Brian Stelter filed a report on the media coverage of Ferguson and the gesture, even acknowledging the time when four CNN contributors put their hands up, before Don Lemon went to the panel.
Kevin Jackson went off on everyone who helped propagate falsehoods about Ferguson and declared that the critics have been spewing "all lies" about Ferguson.
RELATED: Megyn Kelly Loses It over Ferguson Report: 'Hands Up, Don't Shoot Did Not Happen!'
Monica Bandele argued that the gesture caught on because it's a "posture known to black people." Lemon asked if that means the report doesn't matter. Bandele said of course it does, but noted that a report is not the same as a criminal trial.
Bandele ended up getting into it with criminology professor David Klinger, who went off on the lack of physical evidence that backed up anything people questioning Wilson said. Bandele said the witnesses weren't cross-examined. Klinger shot back, "You do not trust General Holder?"
They kept arguing for a bit, and both Lemon and Stelter jumped in to talk about the unreliability of eyewitness testimony. Jackson, meanwhile, pointed to predominantly black cities doing worse to its black citizens that aren't being targeted by the DOJ, accusing Eric Holder of "racially-motivated justice."
Watch the video below, via CNN:
[image via screengrab]
— —
Follow Josh Feldman on Twitter: @feldmaniac
Have a tip we should know? tips@mediaite.com
Josh Feldman - Senior Editor