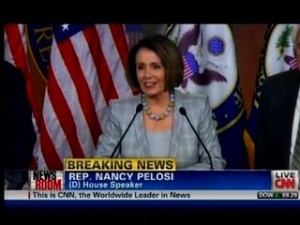 The DC media's jaw-dropping obsession with the Anthony Weiner sexting scandal will peter out when the New York congressman officially resigns this afternoon. But there's no better illustration of how this story came to consume the press than the video below.
Democrats had been prepared to up the pressure on Weiner to resign Thursday, but not before House Minority Leader Nancy Pelosi held her weekly press availability in a large studio in the basement of the Capitol Visitors Center.
Her conference began minutes after the news of Weiner's impending resignation leaked, and so reporters and cameras scrambled to what otherwise would have been a fairly routine press event. Indeed, because Dems are in the minority, it's not uncommon for Pelosi events to be under-attended by members the media. Not this time.
Unfortunately for them, Pelosi refused to offer a money quote. In a sign that Democrats want to turn the page on the Weiner scandal, she insisted up front that she'd maintain silence on Weiner's resignation until he announced it himself.
"As usual we're here to talk about jobs, about protecting Medicare and protecting the middle class. If you're here to ask a question about Congressman Weiner, I won't be answering any."
If you thought disappointed news networks decided then to make do with the other items on her agenda, you'd be wrong. All three of the major cable nets — CNN, MSNBC, and Fox — all cut away right then.

This post was written by Brian Beutler for Talking Points Memo and is repurposed here via a content sharing agreement:

Watch:
Have a tip we should know? tips@mediaite.com