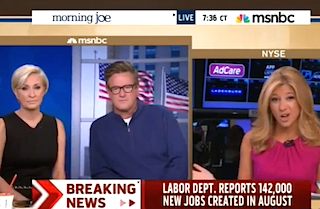 U.S. employers added 142,000 jobs in August and the unemployment rate dipped from 6.2% to 6.1%, the Department of Labor reported this morning, in what many pundits and analysts are calling a significant setback for economic growth that had been gaining steam throughout much of 2014.
The folks at MSNBC weren't having any of the bad news. Sara Eisen of CNBC joined Joe Scarborough and Mika Brzezinski this morning to discuss the new report, saying "it's a disappointment, a big one."
"Economists were looking for a number above 200,000. 220,000 was the estimate. We only got 142,000," Eisen reported.
"This is the first bad news we've had in a while, isn't it?" Scarborough asked.
Eisen agreed, saying it's the worst hiring report of the year. And although the rate itself dropped by a tenth of a percent to the lowest rate in almost 6 years, she said that could just be a reflection of fewer people in the workforce.
The chief economics writer for Nate Silver's Five Thirty Eight concurred with that judgment:
For the 49th time in the past 50 months, more unemployed workers dropped out of the labor force than found jobs. pic.twitter.com/gV2OD8XkVj

— Ben Casselman (@bencasselman) September 5, 2014
Ten minutes after the numbers were released, Fox News hadn't mentioned the jobs report and was still running a ticker headline which read: "Experts predict the Labor Dept. report will show 220,000 new jobs in August." A few minutes later though, Fox brought on Melissa Francis from the Fox Business Network to discuss the "surprising" and "disappointing" new numbers.
Meanwhile, on CNN, New Day host Kate Bolduan was discussing a new report out this morning about an American suspected of running ISIS's social media, then immediately segued into more coverage of Joan Rivers' death. It took them until the top of the next hour, 30 minutes after the news was released, to report the numbers.
Host Carol Costello brought on Christine Romans who also said the new numbers were a disappointment.
Well, I guess we can say this is one of the few times where the "Big 3" not only characterized an economic story in the same way, but also somehow used the same exact word to describe it.
Watch video below, via MSNBC:
[Photo via screengrab]
— —
>> Follow Andrew Desiderio (forza_desiderio) on Twitter
Note: Mediaite intern Andrew Desiderio is a student at The George Washington University.
Have a tip we should know? tips@mediaite.com