All-Spin With Chris Hayes: For New MSNBC Primetime Host, Diversity Is Only Skin Deep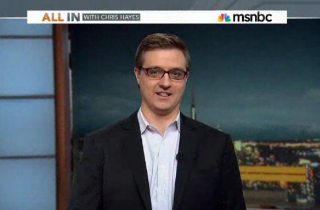 According to a recent study by Media Matters, no one offers more diversity on his program than Chris Hayes.
As documented here recently, when it comes to limiting the number of white guests—who tend to dominate the landscape of cable news—the new 8:00 PM host of All In makes sure more minorities are featured on his program.
Whether quotas are a good or bad thing in this or any capacity is all in the eye of the beholder. It's a debate that has raged for decades…
But how should one define diversity? Is it strictly physical, where varying skin colors, genders and ethnicity are quantified in the chart Hayes uses to guarantee variety on his program?
Or should diversity be defined verbally? A definition based not on a person's appearance, but what they say based on principle, a belief system or experience…
And are all guests created equal? What exactly separates a great guest from a mediocre one?
Martin Luther King's primary message, the one that changed the entire civil rights narrative, can be summed up thusly:
"I have a dream that my four little children will one day live in a nation where they will not be judged by the color of their skin, but by the content of their character."
Judging by his former and current program, Hayes believes diversity is based on the color of one's skin. As mentioned above, he even recently told the Columbia Journalism Review that he keeps a chart that tracks the physical nature of his guests on a week-by-week basis. If there are too many white men, he says he remedies the problem by going in another direction based on physical appearance.
What Hayes doesn't advocate is diversity based on the content his guests provide. Of the five minorities he and his producers booked over his first two shows this week, four of them were liberal/Democratic, while one could be considered neutral. Not surprisingly, not one black conservative could be found on the show, despite MSNBC having a former black RNC Chairman on its payroll (Michael Steele).
So in Hayes' world, as long as enough minorities are represented, it really doesn't matter if both sides of an argument come along for the ride. We keep hearing how intelligent Hayes' style is, and while the show is refreshing in terms of the topics it chooses to cover and the length of time it devotes to them given the complexity of the conversation, without differing opinions, it's just another visit to a growing echo chamber during the network's all-white-all-progressive 7:00 PM-11:00 PM hosted lineup.
Ah, but MSNBC supporters will say MSNBC exists as a counterpoint, an alternative, to FOX News…the network Phil Griffin predicts he'll beat by the end of this year.
Fox does the same thing, but for the conservative point of view, right?
If that's the case, let's compare the guest lists from a content (ideological) perspective to see who's being more diverse between each network's 8:00 PM programs for Monday and Tuesday of this week:
Over his first two shows, Hayes had 14 guests on his program. Of those 14, 10 were liberal, one was socialist (Sen. Bernie Sanders of Vermont), one was conservative, and two could be categorized of having no political affiliation, or at least presented themselves as neutral.
Over on FOX, The O'Reilly Factor (guest hosted by Scott Brown on Monday night, who was shaky at best), featured 16 guests. Of those 16, five were conservative, three were liberal, two were libertarian, and six could be categorized of having no political affiliation, or at least presented themselves as neutral.
On Monday night, The Factor's opening segment focused on out-of-control government spending, citing specific examples of waste. Two guests debated the topic: A liberal radio talk show host and a Republican strategist, with the former calling for closing tax loopholes on the rich and corporations, and the latter calling for entitlement reform.
All In's Monday night opening segment focused on an oil spill in Arkansas, followed by four guests…all of whom agreed with the host against building the Keystone XL pipeline.
So the question begs: Was it really that much of a challenge for Hayes to find one guest to join the program to argue the benefits for building the Keystone pipeline? And would that segment have been more compelling if there was at least one dissenting guest to counter the four others who were against it? Didn't this segment—a unique and brave one for Hayes to lead his primetime debut with—deserve some semblance of diversity, of balance?
In terms of gauging guest performances in general, a majority are average and mostly unmemorable regardless of resume. The three names that come to mind here are Joe Montana, Sarah Palin, and Al Gore. Sure, they had national stage experience, even greatness (in the case of Montana), but just didn't know how to deliver the goods in a guest role (Palin was great in front of live crowds during the '08 campaign, on television thereafter…not so much).
So it isn't a matter of qualifications…most guests are vetted properly. Instead, it's a matter of bringing four qualities that can't be taught:
• The ability to provide unique info that grabs viewer attention
• Passion (most guests are somewhat nervous and therefore reserved)
• Authenticity (real, down-to-earth)
• Well-timed (not forced) humor when warranted
The very best guests have even exceled so much, they eventually were given their own shows to host. It was once unheard of in national cable news to give an outsider (someone who hadn't earned the position by busting their ass anchoring or reporting in small cities) such a huge opportunity, especially in primetime. Now, giving an outperforming guest their own stage is all the rage…just ask most cast members of The Five or The Cycle.
The two best examples of guests-turned-hosts happen to be African-American, and their rise had nothing to do with quotas.
Example #1 is Michael Wilbon, a former writer for the Washington Post and guest on ESPN's The Sports Reporters. Back in 2001, ESPN decided to do an offbeat sports debate program called Pardon the Interruption. Wilbon was chosen to co-host along with the most hilarious curmudgeon in the business, Tony Kornheiser (also a writer at the Post). From a chemistry perspective to this day, there is no better team on television.
Never once have I stopped to observe that a Jewish guy and a black guy were arguing about sports.
You know why?
I'm too entertained by the conversation to notice their appearance, their religion, their race.
Another Michael, former New York Giants defensive end Michael Strahan, was also a compelling, funny, unfiltered guest on local sports radio during his playing days. His jump to television was seamless, and was hired not only to join Fox's NFL pregame show, but also (amazingly, given the range needed) to replace the great Regis Philbin on The Kelly Ripa Show. Since joining last summer, Live with Michael and Kelly is enjoying its best ratings in years.
So does race matter in terms of guest performance? Of course not.
Are all guests created equal? Not by a long shot…
In cable news, some of the most notable guests to make the jump from guest-to-host include Hayes' primetime counterparts Rachel Maddow and Lawrence O'Donnell. Sure, Rachel hosted a radio show, but television…the speed, the visual presentation, the pressure, is entirely different. Both Maddow and O'Donnell used their appearances on Keith Olbermann's Countdown to build their brand, their likability and their staying power enough for audiences to want to see them every night of the week, and they both got their wish.
So here we are in 2013: MSNBC has an 8:00-11:00 PM lineup made up solely of former guests…and coming from someone who does some guest work as well, that's a good thing.
Problem is…all appear to have little interest in offering ideological diversity on their programs, including its newest, youngest member at 8:00 PM.
How does one define diversity?
Is it based on appearance or opinion?
One thing is apparent early on…
If Chris Hayes hopes to draw more than just a niche audience, he'll need to learn to expand his quotas beyond race.
— —
Follow Joe Concha on Twitter @ConchSports
Have a tip we should know? tips@mediaite.com