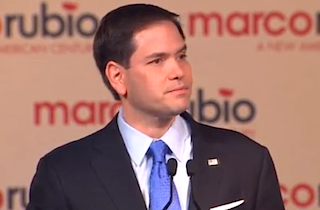 With the words "A New American Century" emblazoned on the wall behind him, Sen. Marco Rubio (R-FL) did his best to draw an important distinction between himself and the Democratic candidate who announced her candidacy for president yesterday. Unlike Hillary Clinton, who is 67 years old and served as first lady of the United States in the 1990s, Rubio is a spry 43 and truly a member of a different generation.
Below is a full list of lines Rubio used in his own Miami announcement speech to make this fact abundantly clear, including one explicit reference in bold:
"I am more confident than ever that despite our troubles, we have it within our power to make our time another American Century."

"…while our people and economy are pushing the boundaries of the 21st century, too many of our leaders and their ideas are stuck in the twentieth century."

"They are busy looking backward, so they do not see how jobs and prosperity today depend on our ability to compete in a global economy."

"So our leaders put us at a disadvantage by taxing, borrowing and regulating like it's 1999."

"They look for solutions in yesterday, so they don't see that good-paying modern jobs require different skills and more education than the past."

"They blindly support an outdated higher education system that is too expensive and inaccessible to those who need it most."

"If we create a 21st century system of higher education…"

"This election is not just about what laws we will pass. It is a generational choice about what kind of country we will be."

"Just yesterday, a leader from yesterday began a campaign for president by promising to take us back to yesterday."

"Yesterday is over, and we are never going back."

"We Americans are proud of our history, but our country has always been about the future."

"We can't do that by going back to the leaders and ideas of the past."

"…in the early years of this century, faced with a rapidly changing and uncertain world, our generation rose to face the great challenges of our time."
Some have suggested the generational jabs were also partially aimed at Jeb Bush, who is 62.
RELATED: All the Things Ted Cruz Told You to 'Imagine' in His Announcement Speech
Yet, during a section about his father, Rubio actually described himself as getting "older," which stood out amidst all the "new generation" talk. "When I was younger, I didn't fully appreciate all he did for us, but now as my own children grow older, I fully understand," he said. Well, at least he's not a grandpa.
Watch the full speech video below, via CNN:
[Photo via CNN/screengrab]
— —
>> Follow Matt Wilstein (@TheMattWilstein) on Twitter
Have a tip we should know? tips@mediaite.com