MSNBC's Dyson Accuses Matt Lewis of Exerting 'White Privilege' in Explosive Exchange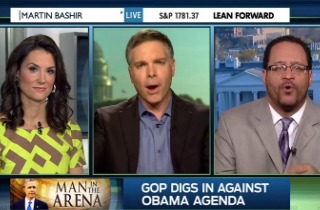 Daily Caller and The Week columnist Matt Lewis appeared on MSNBC with Martin Bashir on Wednesday to discuss the Affordable Care Act's roll-out and the lack of Republican alternative proposals to replace that law. Within minutes, the debate exploded as Lewis was accused of appealing to "white privilege" by Georgetown University Professor Michael Eric Dyson.

Bashir began by playing a clip of Sen. Ted Cruz (R-TX) being grilled over a lack of an alternative GOP plan to replace the ACA. Lewis defended Cruz, saying that he was effectively representing his base and playing a smart political game by not taking the media's focus off of the presently failing ACA roll-out.
Lewis conceded, though, that Republicans need to coalesce around a single ACA alternative in the coming days. "It's not enough to say 'Obamacare's bad,'" he insisted. "You have to have a solution."
Bashir insisted that it is not just health care reform, but that the GOP routinely has no alternative to Democratic proposals on a host of issues.
Dyson insisted that this reflexive opposition from Republicans to President Barack Obama's initiatives was, as Oprah Winfrey recently suggested, due to his skin color.
"It took ten minutes – ten minutes to get to the race issue," Lewis interjected. The pair exploded over Lewis' suggestion that race was an inappropriate topic of debate on this issue.
"Don't deploy the very principles of white privilege to silence a black man on the panel because you don't want to talk about race," Dyson shot back.
Chaos ensued. "You can't talk about policy," Lewis declared. "The only thing you have to talk about is race."
Lewis blew up at Bashir when he was asked to let Dyson finish his tonight. "Please allow him to speak," Bashir insisted.
"The vast majority of Republicans are mindless and incapable of articulating a solid, serious, intellectual conception, or a political fix or remedy to the problem we have here," Dyson insisted.
"This is a joke," Lewis concluded.
Watch the clip below via MSNBC:
[Photo via screen grab ]
— —
> >Follow Noah Rothman (@NoahCRothman) on Twitter
Have a tip we should know? tips@mediaite.com