Allen West Accuses Kyra Phillips Of Leading Him 'Into A Rabbit Hole' With Questions About Gay Marriage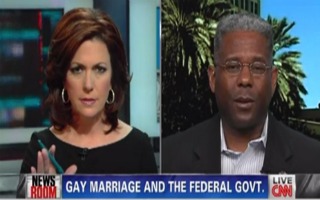 CNN Anchor Kyra Phillips hosted Rep. Allen West (R-FL) where he weighed in on the rumors that he is on a short list for vice president, the Trayvon Martin killing and President Obama's health care law in the Supreme Court. The illuminating interview became heated when Phillips asked West to weigh in on gay marriage rights, at which point West accused Phillips of leading him down a "rabbit hole."
RELATED: Soledad O'Brien 'Ambushes' Rep. Allen West With VP Question: 'I Am Always Willing And Ready' To Serve Country
"Gay marriage – a big issue. Do you think that is something the federal government should make a decision on," asked Phillips.
"I think that when you look at who is issuing out marriage certificates, I think it's a state's issue," West replied. "But I think right now there are a lot of people that try to take you down a rabbit hole to discuss things that really aren't that important. The United States of America is $15.6 trillion in debt…"
"Wait, are you saying that is not important," Phillips interrupted incredulously.
West responded, "I think if you poll the American people, Kyra, I don't think they're going to bring up gay marriage as one of their top concerns." West went on to discuss what he believes is the top issue facing the nation – jobs and the economy.
Phillips agreed, but swiftly returned to the issue of gay marriage rights. "Gay marriage is a very big issue. I mean, you were military. Don't Ask, Don't Tell is no longer…"
West interrupted, "gay marriage is not as big as the gas prices. The gas prices from when President Obama came into office was $1.84. Gas prices are now over $3 dollars…"
Phillips and West engaged in some cross talk while West attempted to stay on the topic of the economy and Phillips sought to maneuver back to gay marriage. "I think the best thing that you can do to help me and help out America: let's stay focused on the things that are critical to the American people right now, and not try to create some type of situation where you try to take me down into a rabbit hole," said West.
"No, no, no, no, no – I'm not trying to do that," responded Phillips.
"Yeah, yeah, yeah, yeah, yeah – you are," replied West.
Phillips asked West whether the millions of gay Americans were correct in being concerned about gay marriage, to which West replied that those gay Americans should be concerned about the state of the economy and the federal debt and deficit.
Earlier in the interview, when Phillips asked West about the vice presidential rumors around him, most notably voiced by former Republican vice presidential candidate Sarah Palin, West refrained from the usual deferential response and appeared to entertain the idea.
"We don't know which path your life will take and if someone were to believe that I have a capacity to serve this country at a higher level, it's very humbling, very honorable," said West.
Phillips followed up, "bottom line, you're telling me yes. If Mitt Romney comes to you and says 'I want you on the ticket with me, I want you to be my vice president,' you would say 'yes.'"
"If someone were to make that call to me, which I really doubt is ever going to happen, you would have to make sure that is something that God would ordain for you and you'd have to talk to your wife – my wife and my two daughters about — but we have always stepped up to the plate to serve our country and if it's a right fit than I would do so," said West.
Phillips asked West about that right fit and whether he supported Mitt Romney as the eventual GOP nominee. West responded that, while he had never "been on a dinner date" with Romney and that he and the likely Republican nominee had differing views, but he believed that they would be able to "come together as a team."
Phillips asked West about his previous support for keeping portions of the Affordable Care Act intact, suggesting that his support for certain provisions within that bill could be politically problematic for him as a contender for the vice presidency. "Voicing any support for that bill – could that be problematic for you as a vice president," Phillips asked.
"No," responded West. "I'm a pretty pragmatic and principled person – I don't have to go as a mindless lemming off the cliff." West proceeded to voice support elements of the ACA like allowing younger people to stay on their parent's insurance until they were 26-years-old and forcing insurance providers to cover individuals with preexisting conditions as parts of the bill that he agreed with. "But that's probably about 20 pages of the bill, it's the other 2,680 pages of that legislation now law that I'd be very concerned about," said West.
Finally, West weighed in on the "tragedy" that was the shooting death of Florida teen Trayvon Martin and the local "Stand Your Ground" law – West refrained from weighing in heavily in that issue and called it a state's issue. When asked about the racial component about that shooting, West said he believed there were some "irrational voices" adding fuel to that fire. "We don't need organizations like the New Black Panther Party putting million dollar bounties on the head of an American citizen," West concluded.
Watch the heated exchange below via CNN:
Have a tip we should know? [email protected]