Allen West Says His Opponent Is Willing To 'Exploit Our Children' In New Political Ad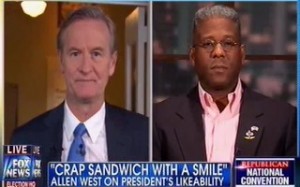 Rep. Allen West (R-FL) is known for making the occasional colorful comment. In fact, those statements have made West a regular on the political talk show circuit. However, he appears to take issue with his opponent using those statements in an ad which features children echoing West. The Florida Congressman called his opponent's maneuver a sign that he is both inept and incompetent. West went on to say that his opponent could not discuss the issues so he has resorted to attack ads.

RELATED: Allen West Offended Everyone When He Ordered Chick-Fil-A For Entire Congressional Black Caucus
Steve Doocy first asked West to address comments he made on Fox on Saturday where he said that President Barack Obama was feeding the nation a "crap sandwich with a smile". At the time, he said that he was using "military vernacular" to describe what he felt was an accurate assessment of the President's governing style.
"I think they were very appropriate words," said West, explaining why he thought the talk of Mitt Romney's likeability deficit against President Obama was not an electoral liability. "I'm kind of tired of people talking about likeability – we should be talking about the facts."
Doocy backed up West's assessment that likability may not be as strong a factor influencing this election in November as it is today due to the increasingly negative tone of the campaign.
"This is about leadership," said West. "It's also not about these Saul Alinsky type of tactics which Saul Alinsky did come from Chicago which we're seeing from the President." West accused Obama of going for the "political cheap shot" because he is avoiding running on his record as president.
"I don't see where there is this high likability rating because I'm looking at the effects that his policies are having on our country," said West.
"If we were basing who the president is on likability, Regis Philbin would have been elected many, many years ago," said Doocy.
Doocy asked West about his congressional race and played an ad from West's opponent, Patrick Murphy, which featured children repeating some of West's more colorful comments and calling his conduct "bullying."
"It looks like they hired some kids to simply parrot what some adults had said in the past regarding you," said Doocy. "How do you feel about that?"
"That goes back to the fact that when you're inept, and you're incompetent and you cannot talk about this issues, you're going to go out and exploit our children," West replied. "I don't think my opponent cares about the future of America or the future of those kids that he just used horribly in a campaign ad to attack me."
"I'm an adult – I'm a grown man – and I don't think we want to have children going out and getting into the realm of politics," West concluded.
Watch the segment below via Fox News Channel:
> >Follow Noah Rothman (@Noah_C_Rothman) on Twitter
Have a tip we should know? tips@mediaite.com