Alton Sterling's Son Delivers Graceful Plea For Unity: 'Come Together as One United Family'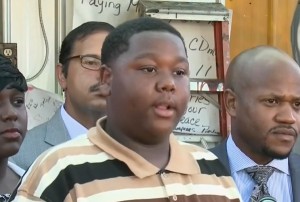 One of the most gut-wrenching scenes in recent popular memory was the sight of 15 year-old Cameron Sterling sobbing uncontrollably at a press conference following the killing of his father, 37-year-old Alton Sterling, at the hands of police in Baton Rouge last week. That killing was followed by the live broadcast of Philando Castile's death at the hands of police in Minnesota, and then of the ambush of police officers in Dallas, Texas, all of which have left America hurting and in need of healing.
On Wednesday morning, 15-year-old Cameron Sterling proved that, if nothing else, healing is possible when he spoke briefly at a press conference headed by his family's attorney. The young man asked for people to remember that his father "was a good man," and said his loss was a "sacrifice" that he hopes will lead to more unity. Cameron also encouraged people to continue to protest peacefully:
I feel that people in general, no matter what the race is, should come together as one united family. There should be no more arguments, disagreements, violence, crimes, everyone should come together as one united family. My father was a good man. That was a sacrifice to show everyone what has been going on in life. And it should give everyone a push that everyone should be together, not against each other. Everyone needs to be on one accord, not a different note. Everyone needs to be together.

And I truly feel that my father was a good man, and he will always be a good man, but, at the same time, he has a lot of loved ones out here that are really here to support me, my mother, the rest of my brothers and sisters, and my father. They're here to support everyone. And I want to thank everyone that are supporting us, I want to thank y'all very much for supporting us.

And another thing, the protesters. I feel that everyone, yes, you can protest, but I want everyone to protest the right way. Protest in peace. Not guns, not drugs, not alcohol, not violence. Everyone needs to protest in the right way. With peace. No violence. None whatsoever.
While Cameron Sterling's pleas are a tall order indeed, his example, his evident ability to heal and forgive, is worth a thousand speeches.
Have a tip we should know? tips@mediaite.com