Ambush Interviewer Jason Mattera Goes On Fox News To Complain About Joe Biden's 'Press Chick'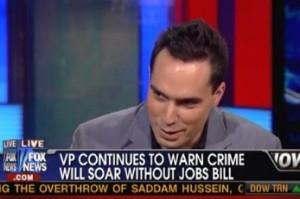 Jason Mattera, the Human Events stunt-interviewer who got straightened out by Vice President Joe Biden earlier this week, appeared on Your World with Neil Cavuto to continue feigning outrage about Biden's supposed use of a "rape reference" to "describe Republican opposition to the President's bill."
Mattera underscored his concern for women by complaining to Cavuto about the contempt shown to him by Biden's "press chick," and continued to mislead about Biden's remarks, saying the VP accused Republicans of being "pro-rape."

Cavuto opened the segment by playing the clip of Mattera's ambush of Biden, including his false allegation that Biden had used "a rape reference to describe Republican opposition to the President's bill."
Biden quickly, forcefully corrected Mattera, saying that he has been referencing various crime statistics, including rape, as possible consequences of failing to pass the portion of the American Jobs Act that puts laid-off police back on the job. There's a fair argument to be made that Biden's remarks have been overly manipulative, at times, or heavy-handed, but he never tried to conflate opposition to the bill with rape.
After playing the clip, Cavuto asked Mattera how the encounter ended. "Well, his press chick said, 'who are you with,'  as I was shoved by people in the group," Mattera responded,  "and I said Human Events."
Mattera went on to say that Mr. Biden had been "suggesting that the Republican party is pro rape," and that Biden "said he wished his critics were rape victims," neither of which is remotely true. On the first count, Biden's suggestion is, at worst, that Republicans are blind to the consequences of draconian austerity measures, and on the latter, he did express a wish that opponents of the measure who call it a temporary fix could empathize with those who would be hardest hit by a cop shortage. "I wish these guys that thought it was temporary," Biden said,  "I wish they had some notion what it's like to be on the other side of a gun or a 200 pound man standing over you telling you to submit. Folks, it matters. It matters!"
Mattera then explained to Cavuto how he managed to get so close to the Vice President, by pretending to be a fan who wanted to pose for a picture with Biden. That's part of Mattera's consistent MO, to pretend he's a fan of his subject. Cavuto then asked Mattera what the VP's staff said to him after the encounter.
"Only, who are you with?" Mattera replied, adding, "With contempt. as though I had no right to ask this type of question. It is a legitimate, straightforward question."
That's where Mattera gets it wrong. As I've said on many occasions, I have no problem with so-called "ambush interviews" per se, and in fact, Mattera's creativity and resourcefulness in gaining access are commendable. What earned him the contempt of Biden's "press chick" was the fact that his question, as usual, revealed him to be a bad-faith actor. Mattera would have you believe that it has something to do with him being a conservative, but Human Events already has a White House reporter, one who does ask questions in good faith, and doesn't embed lies in them. His name is John Gizzi, and he has earned the respect of his colleagues, and this White House. Mattera could learn a thing or two from him, as I have.
Here's the clip, from Fox News' Your World with Neil Cavuto:
Have a tip we should know? tips@mediaite.com