'America Is Hated Around The World' Because Of Obama's Foreign Policy, Ahmadinejad Tells Fareed Zakaria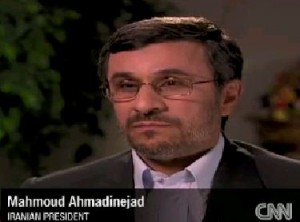 In an interview with CNN's Fareed Zakaria on Sunday, Iranian President Mahmoud Ahmadinejad said America was hated around the world and should re-examine their policies. "They should see where the problem is — maybe the problem is in the United States itself. This is a friendly recommendation," Ahmadinejad said.
Ahmadinejad criticized NATO's intervention in the Libyan conflict. "In the beginning, we recommended a dialogue between the two sides and all parties, but they did not pay attention to our recommendations. And, of course, NATO intervention was effective in exacerbating the conflict. We have not received any statistics about the losses from both sides and I think instead of intervention, NATO could help to promote a dialogue among all parties."
Ahmadinejad reserved most of his vitriol in slamming American foreign policy.
"The United States has become weaker and weaker," Ahmadinejad sniped. "And now, they are hated in the region. They are hated in the whole world. Anywhere in the world, if you go, you see that the U.S. government is hated."
"We must be very much happy if their policies fail everywhere in the world and we should encourage them, 'OK, go on, go on.' And if we were not since, we should encourage the United States to remain in Iraq and in Afghanistan because they have already been mired in those two countries."
"But we sympathize with all people of the world," Amadinejad continued. "We say, 'Why Afghans should be killed? Why American soldiers should lose their lives? Why they should spend so much money for killing people instead of using the money for development?' That is very simple. Maybe the U.S. administration does not accept that. But believe me, continuation of these policies are going to lead to the collapse of the U.S. empire. And it is against the interests of the people of the United States."
Watch Ahmadinejad's interview with Zakaria below via CNN:

Have a tip we should know? tips@mediaite.com