American Actress Jasmine Waltz Has Full Nip-Slip on Celebrity Big Brother UK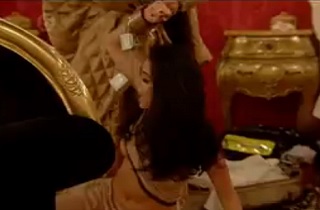 On Sunday night's episode of Celebrity Big Brother UK, boxing legend Evander Holyfield was warned by the show's producers about "unacceptable and behavior" for telling another cast member that he believed homosexuality to be a "chioce," and something that can be "fixed."
However, during Saturday night's episode, an inebriated Jasmine Waltz flashed her breasts twice (advertently or inadvertently), and was not warned, nor was the footage edited out of the episode.
Jasmine Waltz, an actress with a hard-luck bio and a penchant for notoriety, livened up the second episode of Celebrity Big Brother UK by partaking generously of the champagne provided to the houseguests, and later caused a stir by flashing her breasts twice on camera. One of the show's gimmicks this season was to handcuff houseguests in pairs, and in trying to manage the confinement, Waltz began to remove her top before being stopped by her partner in bondage, TOWIE star Sam Faiers. A few minutes later, she tried again (NSFW language and nudity):
Later in the same episode, Waltz held forth on the subject of "finger-banging," including a brief demonstration of technique.
Waltz has forged a career in television and B-movies, and has also made headlines for allegedly punching Lindsay Lohan in the face a few years back, and for hooking up with actor David Arquette shortly after his split with Courtney Cox.
Broadcast standards in the UK have long been looser than in the United States, particularly in the later hours, so the language and nudity are probably more of a shock to US audiences.
Have a tip we should know? [email protected]