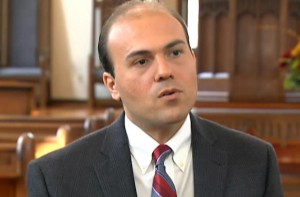 In an interview with Fox Business' Trish Regan, one of the American hostages released by the Iranian government January revealed that their plane wasn't allowed to leave the country until another unspecified plane landed.
Pastor Saeed Abedini was arrested for preaching Christianity to Iranian Muslims, or "undermining national security" as the Iranians put it. After years in prison, he was released along with three other Americans to much fanfare. But Abedini's release became more controversial this week when a Wall Street Journal piece accused the Obama administration of paying a de facto ransom for the prisoners in the form of a $400 million cash payment delivered by plane the same day.
The administration denies that charge, but Abedini said Thursday that their plane was originally supposed to leave in 20 minutes, but was delayed for hours because the Iranians were waiting for another plane: "I asked one of the police heads that was with us, 'Why are you not letting us go to the Switzerland plane?' He told me, 'We are waiting for another plane, and if that plane takes off, then we are going to let you go.'"
"When I asked them why you don't let us go– because the plane was there, pilot was there, everybody was ready to leave the country– they said, "We are waiting until another plane, and if that plane doesn't come, we [will] never let you go,'" he reiterated.
Watch above, via Fox Business.
[Image via screengrab/Fox News]
——
>>Follow Alex Griswold (@HashtagGriswold) on Twitter
Have a tip we should know? tips@mediaite.com