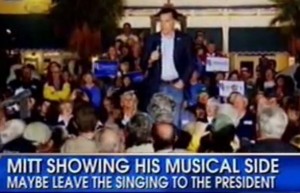 Former Massachusetts Governor Mitt Romney has made America The Beautiful a go-to rhetorical aid in his presidential campaign for some time now (in Iowa, he joked repeatedly that "corn counts as an amber wave of grain), but eschewed actual crooning on the stump. Perhaps emboldened by President Obama's knockout Apollo Theater performance, Romney remedied that oversight Monday night, leading a Florida crowd in a performance of the patriotic tune.
The reviews were not kind. Here's a clip of the performance from Fox And Friends, complete with progressively more critical chyrons, including my first thought, "Maybe Leave The Singing To The President":
Later in the show, the Fox And Friends gang played a snippet for Romney's chief rival, Newt Gingrich, and offered him equal time to belt out a tune.
The former Speaker declined, saying, "I'll just say that I think you have to know your limitations, so I'll open up with talking about the need to create jobs and the need to develop an American energy plan to bring down the price of gasoline, and I won't try to compete in the singing department."
I thought Romney started out strong, with an entertaining lounge vibe, but got a little pitchy (maybe a lot pitchy) in the middle, and at the end. In Romney's defense, he did ask the crowd to sing along, but they pretty much abandoned him, which could not have been great for the nerves.
Still, it wasn't that bad. True, he's no Rev. Barack Obama in the pipes department, but for my money, he was at least as good as Steven Tyler was at the AFC Championship game (and probably made the same amount of money for his time), and it beat hell out of his Who Let The Dogs Out.
Romney's rendition might actually help him with some voters, who will likely identify with the former Governor's patriotic spirit, and with his sub-superstar vocal skills. For a candidate who could use a healthy dose of humanization, this might be what the doctor ordered.
Have a tip we should know? tips@mediaite.com