Americans Biased Against Al Jazeera English? Not If They Think They're Watching CNN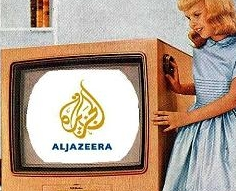 As Al Jazeera English works to find itself a permanent place on American television, one question has now been settled. Americans don't see AJE as biased. That is, as long as they don't know they're watching Al Jazeera. According to a study published in Arab Media and Society, researchers found that Americans who watched AJE news coverage–branded with a CNN International logo–found it to be fair. People watching the same clip who were told it was Al Jazeera were more likely to conclude the story was biased.

"The findings that show differential bias ratings between AJE and CNNI based on the same exact news clip suggest Americans are, on average, still unable to fairly evaluate the station," concluded the authors of the study, William Youmans and Katie Brown, who are both Ph.D candidates in the Department of Communication Studies at the University of Michigan, Ann Arbor. "We found that the same news segment that boosted evaluations of CNNI when attributed to that network had no impact on the generally negative evaluations of AJE, even though it originally aired on AJE."
The authors argue that the perceptions many Americans have about Al Jazeera English, a separate entity from the Doha-based Al Jazeera, but jointly owned, means the uprisings in Egypt, Tunisia and Libya may not present the network with an opportunity to earn itself a spot on American cable:
If those who remain prejudiced against AJE mobilize around this view and oppose cable carriage of AJE, it could offset gains in AJE's reputation. This would limit the network's market penetration and therefore the potential for educating or moderating the views of Americans who have little access to news and perspectives originating outside of the country's borders. In sum, AJE's moment may be stolen by those who could benefit the most from watching the network, to the detriment of international relations.
Read the study here.
Have a tip we should know? tips@mediaite.com