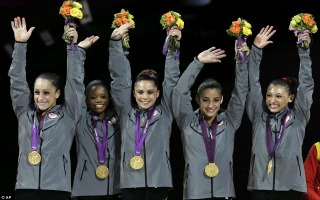 According to a report from Americans for Tax Reform, the conservative group headed by Grover Norquist, America's gold medal-winning Olympians will have to pay the Internal Revenue Service nearly $9,000 for every gold they take home from London.

RELATED: Olympic Organizers Selling Tickets Again After Complaints About Empty Seats
While 529 hardworking athletes proudly represent the United States in the 2012 Olympics, any medals and money they earn wearing red, white and blue will be taxed by the IRS. According to research done by the Americans for Tax Reform Foundation, U.S. Olympic athletes are liable to pay income tax on medals earned and prizes received at the London games.
America's winning Olympians are responsible to the IRS for the taxable income that gold, silver and bronze medals represent when they return from the quadrennial summer games. In fact, they are taxed at the top income rate – 35 percent – and, while the commodities price for the precious metals is less than $1,000 for each prize, the prize taxes that the athletes must pay is far greater.
The prize taxes for a gold medal honorarium of $25,000 is pegged by ATR at $,8750. Combined with the tax on the medal itself, a gold medalist will have to pay the IRS $8,986. A silver medalist must pay $5,385 on the medal and the $15,000 honorarium and a bronze medal winner must pay $3,502 on the medal and the $10,000 honorarium.
Florida Republican Sen. Marco Rubio introduced a bill in the U.S. Senate Wednesday that he would exempt Olympic athletes from paying taxes on their medals saying "our tax code is a complicated and burdensome mess that too often punishes success, and the tax imposed on Olympic medal winners is a classic example of this madness."
"We can all agree that these Olympians who dedicate their lives to athletic excellence should not be punished when they achieve it," Rubio continued.
ATR notes that few other nations tax Olympic medals like the United States, so most of America's Olympic competitors' winnings will not be subject to taxation when they return home.
Watch Shepard Smith address the controversy via Fox News Channel:
h/t Washington Times via Julie Borowski
Editor's note: This post has been edited since its original posting – Jon Nicosia
Image via AP
> >Follow Noah Rothman (@Noah_C_Rothman) on Twitter
Have a tip we should know? tips@mediaite.com