Amid Scandal, Rupert Murdoch Gives Up Takeover Bid Of BSkyB Pay TV Operation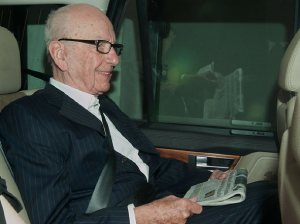 General Murdoch appears to have ordered his British troops to retreat. Sky News reports this morning Rupert Murdoch has abandoned his long-planned $12 billion bid to takeover British Sky Broadcasting, known in the U.K. as BSkyB. The decision comes as the British parliament was set to pass a resolution calling on Murdoch to withdraw his bid for a full takeover of the company–Murdoch's News Corp. already owns 39 percent of BSkyB.
The New York Times described the decision as a "stunning reversal" for a mogul unfamiliar with defeat:
The development was the latest upheaval flowing from the phone hacking scandal within Mr. Murdoch's British newspaper empire that has convulsed his company and ended what, for years, had been a close, cozy and influential relationship with the British establishment.
As CNBC has reported, the collapse of the BSkyB bid marks a "dramatic fall from grace" for Murdoch, who has flown to the U.K. to do damage control in the wake of the closure of the News of the World, brought down by the expanding phone hacking scandal:
The Independent newspaper, which has been critical of Murdoch since the scandal broke, quoted ministers as saying privately that the takeover would be "politically dead" after the vote in parliament.

One government insider told the paper that the only way News Corp could complete the takeover of BSkyB would be to sell off his three remaining British newspapers — The Sun, The Times and The Sunday Times.
Here's the full statement from News Corp.:
News Corporation Withdraws Proposed Offer for British Sky Broadcasting Group PLC

13 July 2011 – News Corporation ("News Corp") announces that it no longer intends to make an offer for the entire issued and to be issued share capital of British Sky Broadcasting Group PLC ("BSkyB") not already owned by it *.

Chase Carey, Deputy Chairman, President and Chief Operating Officer, News Corporation, commented: "We believed that the proposed acquisition of BSkyB by News Corporation would benefit both companies but it has become clear that it is too difficult to progress in this climate. News Corporation remains a committed long-term shareholder in BSkyB. We are proud of the success it has achieved and our contribution to it."

* For the purposes of Rule 2.8 and other relevant provisions of The City Code on Takeovers and Mergers ("City Code"), News Corp reserves the right to announce an offer or possible offer or make or participate in an offer or possible offer for BSkyB and/or take any other action which would otherwise be restricted under Rule 2.8 of the City Code within the next six months in the event that:

(i) there is an announcement other than by News Corp or any subsidiary of News Corp of an offer or possible offer for or a merger or possible merger with BSkyB; or

(ii) BSkyB announces a whitewash proposal for Rule 9 purposes or a reverse takeover not involving News Corp or any subsidiary of News Corp.

In the event that News Corp is permitted pursuant to the City Code to announce an offer or possible offer for BSkyB, News Corp reserves the right to do so at any price and at a price less than 700 pence per BSkyB Share in the event that either: (i) it is recommended by the Board of BSkyB; or (ii) there is an announcement by a third party of an offer or a possible offer for BSkyB at a price lower than 700 pence per BSkyB Share; or (iii) BSkyB declares, makes or pays a dividend which is in excess of its stated dividend policy at the time of this announcement; or (iv) it is so permitted by the City Code.

Any such offer or possible offer by News Corp or any subsidiary of News Corp will be subject to obtaining any required regulatory approval.

A copy of this announcement will be available on News Corp's website at www.newscorp.com.

Deutsche Bank and J.P. Morgan Cazenove are acting as financial advisers to News Corp.
Have a tip we should know? tips@mediaite.com