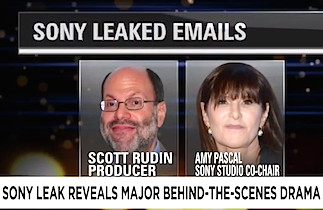 Sony Pictures co-chair Amy Pascal and movie producer Scott Rudin are playing a game of damage control Thursday morning after a series of emails they sent back and forth earlier this year came to light thanks to a massive cyber-attack on that studio committed by group that appears to be sympathetic to Kim Jong-un's North Korean regime.
Aside from comments about Angelina Jolie being a "spoiled brat," the leak also revealed an unfortunately glib exchange between Pascal and Rudin about President Barack Obama's supposed movie preferences. The pair joked about trying to see what Obama thought about Django Unchained and 12 Years a Slave, with Rudin remarking, "I bet he likes Kevin Hart."
RELATED: Seth Rogen Accused Sony of Trying to 'Make North Koreans Happy' in Leaked Emails
Now, both Pascal and Rudin has put out their own separate statements apologizing for their jokes about Obama, which they obviously never imagined could become public.
In her statement, obtained by TheWrap, Pascal said:
"The content of my emails were insensitive and inappropriate but are not an accurate reflection of who I am. Although this was a private communication that was stolen, I accept full responsibility for what I wrote and apologize to everyone who was offended."
And Rudin told Deadline:
"Private emails between friends and colleagues written in haste and without much thought or sensitivity, even when the content of them is meant to be in jest, can result in offense where none was intended. I made a series of remarks that were meant only to be funny, but in the cold light of day, they are in fact thoughtless and insensitive — and not funny at all. To anybody I've offended, I'm profoundly and deeply sorry, and I regret and apologize for any injury they might have caused."
There may yet be more apologizing to do as hacked Sony materials continue to leak.
Watch CNN's coverage of the leaked emails below:
[Photo via screengrab]
— —
>> Follow Matt Wilstein (@TheMattWilstein) on Twitter
Have a tip we should know? tips@mediaite.com