House Drama: An Angry Boehner Yells To White House 'Put Something On The Table!'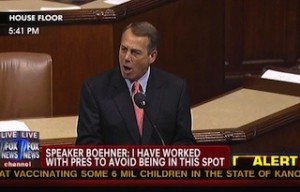 Rep. John Boehner just took to the house floor in advance of a vote over his recent iteration of a balanced budget bill that aims to end the current debt crisis that has gripped the nation's capital. Perhaps showing the tension of weeks of stalemated debate, Boehner showed some rare anger, raising his voice in insisting that his political opponents "put something on the table!"
Partial transcript of the more impassioned part of Boehner's house floor speech:
"My colleagues I can tell you that i have worked with the President and this administration since this begining of this year to avoid being in this spot. I have offered ideas, I have negotiated. Not one time, not one time did the administration ever put any plan on the table. All they would do is criticize what I put out there. I stuck my neck out a mile to try to get an agreement with the President of the United States…I stuck my neck out a mile.

And I put revenues on the table in order to try to come to an agreement to avert us being where we are. Well a lot of people in this town can never say yes. A lot of people can never say yes. This house has acted. And it is time for the administration and time for our colleagues across the aisle, put something on the table! Tell us where you are!
Those paying close attention to his rhetoric may recognize that it isn't terribly dissimilar to the accusations made by the White House towards the GOP, known in administration-friendly circles as the "party of no."
Watch the video below courtesy of Fox News:
Have a tip we should know? tips@mediaite.com
Colby Hall - Founding Editor