An Atheist, a Jew, and a Catholic Battle on Fox Over 'Concerns About Religious Freedom'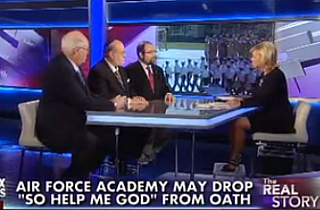 An atheist, a Jew, and a Catholic once again walked into a bar Fox to battle over issues surrounding religious freedom. Seems like Gretchen Carlson's The Real Story staff might be onto something because these segments tend to be among daytime cable's most interesting.
Last week, the religion panel squabbled over whether it's okay for Senate Chaplain Barry Black to be mixing politics and prayer. On Thursday, a new trio went head-to-head-to-head over "new concerns about religious freedom in the U.S. and abroad."
When asked whether "hostility towards religion" has grown in the United States, Rabbi Aryeh Spero readily suggested that "during the Obama administration, there has been a tilt," citing examples like military cadets allegedly being told that evangelicals rank among the many potentially violent extremists in America.
"It's worse than that," asserted Catholic League president Bill Donohue. "A University of South Florida professor compared priests to feces… [L]ast night on Chelsea Lately they took a swipe at priests calling them molesters. When it comes to the government, it is worse," however, he said, claiming the administration has attempted to "redefine" Catholic organizations.
Carlson then turned to American Atheists PR director Dave Muscato, asking him: "I would assume as an atheist on the panel that you are not as concerned that Christians are being persecuted or maybe you are?"
-RELATED: Conservative Radio Host Berates Atheist Over Christian Cross at 9/11 Memorial
"There is a difference between between persecuting Christians and persecuting, I mean, criticizing religion itself," the atheist said. "There is nothing wrong with criticizing an idea. That's totally different from criticizing people."
"It is okay to say priests equal feces?" Donohue shot back.
Muscato said that it is "criticism," prompting the Catholic leader to ask why the professor didn't "choose Islam" to criticize. "I think we know why," Donohue said.
Rabbi Spero interjected that the Obama administration has used the institutions of government to "demonize" Judeo-Christian people of faith. "They are always apologists for anything Islamic," he alleged.
The gang also took on reports that the Air Force Academy is considering removing "So help me God" from its oath. "When we have a fighter pilot up trying to save our nation, he or she may not be able to say 'So help me God' and you're okay with that?" Carlson challenged atheist Muscato.
If he or she wants to say it privately, Muscato said, "there is nothing stopping them from saying that to themselves or even out loud."
"But why does one person go to change what the majority believes?" Carlson asked.
"Because we have the First Amendment," Muscato replied. "Just because you have a majority of Christians in this country doesn't mean that Christians get to decide what happens for everybody."
The rabbi insisted there must be "tolerance for the majority" as well as the minority, adding that "So help me God" is part of "Americana" and that it "bugs" him that "you people" — atheists — talk about "your freedom from religion, but what about our freedom to express ourselves?"
Watch below, via Fox News:
— —
>> Follow Andrew Kirell (@AndrewKirell) on Twitter
Have a tip we should know? tips@mediaite.com