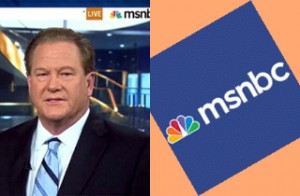 Ed Schultz has been replaced by the younger, wonkier Chris Hayes in MSNBC's primetime lineup. It's all in an effort to court a younger audience in the key 25-54 demo that advertisers crave.
Hayes, 34, is a somewhat surprising choice considering all the buzz around the Washington Post's and MSNBC primetime fill-in host Ezra Klein. One note on Klein: While he's obviously an accomplished writer, he's also an awkward date when serving in an anchor role. Simply put, there's no there there from a infotainment/performance perspective. Sure, he's fine as a guest, but should never be the guy occupying your network's most coveted timeslot.
Given the rumors of his demise since the President won re-election, what isn't surprising is Ed being demoted to the empty wilderness that is a 5:00-7:00 PM weekend spot, real estate previously unpopulated by any live broadcaster on the Lean Forward network.
Mr. Schultz's story is a fascinating one: Once a star college football player at Minnesota State University Moorhead (a quarterback–incredibly–considering 88.5 percent of you would peg him as a fullback or linebacker) he eventually became a sports broadcaster, and nearly became the Minnesota Vikings' play-by-play guy but was just beaten out for the job.
On the political front, Schultz was also once a conservative, serving as a radio host in that capacity from 1992 until 1998. But after touring rural North Dakota and (in his words) "seeing where we were going as a country" he did an about-face and became really, really liberal (which made perfect sense considering Bill Clinton was in office during a booming economy at the time).
Anyway, Schultz eventually became host of MSNBC's Ed Show, which bounced around three different time slots before landing in the 8:00 PM home after Keith Olbermann napalmed another bridge with his employer, thereby leaving a void.
Since KO's departure, MSNBC continued to improve its standing on the ratings front (beating CNN easily, still trailing Fox overall), albeit not in Ed's slot but at 9:00 and 10:00 PM…where Rachel Maddow and Lawrence O'Donnell began to periodically beat Sean Hannity and Greta Van Susteren, once considered an unthinkable scenario inside the bubble. Schultz, however, was struggling to get in the same stadium as his Fox competitor (Bill O'Reilly) who was pounding him at almost a 3-to-1 clip.
So MSNBC, seeing that Ed's blue-collar style wasn't in sync with its allegedly cerebral image throughout the rest of primetime, demoted him to an embarrassing late weekend afternoon slot.
So why doesn't Schultz–as a matter of principle–just leave the network altogether? After all, it's one thing to go from 8:00 PM to 10:00 PM on weekdays, it's entirely something else to be asked to build a time slot that has never existed in the network's history (repeats of NBC's Lockup or some cheesy facsimile thereof has occupied the space to this point).
The answer is the following:
Ed has no choice.
Here's the deal: Polarizing, one-sided political programming can exist on two cable channels: Fox News and MSNBC. Ed's ice cream isn't a flavor that would ever play well on Fox (staunchly pro-union, once advocated breaking the law when voting against Republicans, once called a major Fox contributor a slut).
CNN? Really? Where would you put him? It's not like the ratings were ever there to bring along a much-needed audience, and Ed's fiery style just wouldn't fit the buttoned-up brand.
Current TV would have been perfect, but it's now officially the lowest-rated cable network anywhere (seriously…not just news, we're talking every channel on cable…go Young Turks!). Besides, Current is now owned by Al-Jazeera. And yes, Al Gore was once almost our President…
So that leaves…MSNBC. It's the only place Schultz can continue to host a show on national television in any capacity (and besides, he's still under contract). Sure, the 59-year-old could simply stick to radio and be the left's Rush Limbaugh (with a fraction of the audience). But know this: Once you've tasted network television…the daily car service, the makeup, the hair stylist, the 24-year-old associate producer hanging on your every word as if you were Justin Timberlake himself…it's just so hard to go back to the depths of a small radio studio and talking to angry callers who likely should be added to a terrorism watch list.
And this scenario just doesn't apply to someone like Schultz: Sean Hannity would have the same issue as being so polarizing that CNN and MSNBC would never touch him. Same goes for Lawrence O'Donnell, Al Sharpton or Martin Bashir.
The exceptions to the polarization rule are Bill O'Reilly (who could be a host on any cable and broadcast network if his guest appearances on every competing network day and night are any indication) and Rachel Maddow (Meet the Press panelist, Daily Show guest, frequent Leno and Letterman appearances prove a certain gravitas and respect) and Chris Matthews, who hosts the relatively sane Chris Matthews Show on a nationally-syndicated basis Sunday mornings.
Chris Hayes gets the nod on MSNBC for 8:00 PM.
Bill O'Reilly won't be losing any sleep over his latest competitor.
But Ed Schultz will be getting plenty of zzzzzz….
Because going from primetime glory to the abyss of MSNBC weekend afternoons–due to a lack of options—will allow just that.
Have a tip we should know? tips@mediaite.com