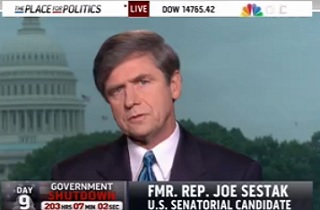 As the US Government shutdown enters its ninth day, nerves are fraying at the consequences of the Republicans' attempt to derail President Obama's health care law. On MSNBC Live Wednesday morning, Retired Admiral, former Congressman, and US Senate candidate Joe Sestak discussed, with disgust, the shutdown's effects on veterans benefits, and dropped some profanity on host Thomas Roberts while recounting what one veteran said to him.
Earlier in the segment, Sestak called out Rep. Duncan Hunter for blaming the Pentagon for the shutdown's impact on veterans. While thanking Rep. Hunter for his service, Sestak observed that many in Washington "want to be judged for their intentions, not their deeds or their lack of deeds," and asked "If he had this question, why didn't he ask it before he voted for the law? Where was his deed, not his intention, of making sure that service members, many of whom he served with, were taken care of properly?"
Roberts played a clip of testimony from Secretary of Veterans Affairs Eric Shinseki in which Shinseki warned that "If the shutdown does not end in the coming weeks, VA will not be able to assure delivery of 1 November checks to more than 5.18 million beneficiaries, including veterans who are 100% disabled, surviving spouses, eligible children orphaned by the death of their military parent."
"So there we're getting the idea now the numbers, over five million beneficiaries are going to be out in the cold come November 1st," Roberts said. "It doesn't seem like any of these dates are really getting the attention of people in Washington, DC, the number of days the shutdown is going on, whether or not the debt ceiling is looming on the 17th, and now the secretary advising everybody about the November 1st date."
Sestak pointed out that "the only reason that in addition he's not able — he doesn't say that the health care that provided to millions of our veterans that have come out without limbs, with post-traumatic stress disorder and TBI, brain injuries, is because in 2009, Congress passed a law that said we'll fund, one year ahead, the health care of our veterans."
"Now, if that debt ceiling is broken, Thomas, we will have up to 40% of our veterans thrown out of the VA system," Sestak continued, "no longer being able to take care of their limbs."
He then recounted what a taxi driver told him on the way to the studio. "He said, 'You know, I served in Vietnam, and we veterans saw a lot of shit that the rest of common Americans never saw, but it made me and my fellow veterans humble.' I hope that at least something good comes out of this, that our Congress members become humble and understanding that they're supposed to be of a government of, for and by the people. They are not supposed to be harming people, particularly veterans who are double the citizens."
Roberts later apologized for the use of profanity.
Here's the clip. from MSNBC Live:
Have a tip we should know? tips@mediaite.com