An Outraged Kimberly Guilfoyle To Obama: 'Show Us The Man That You Are' And Return Maher Money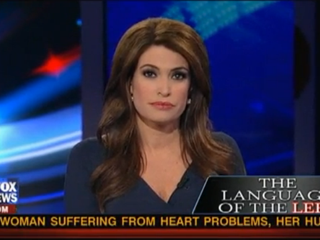 Kimberly Guilfoyle and Leslie Marshall joined Sean Hannity last night for his hour-long special on the "hate speech" of the left, and Guilfoyle, perhaps even more so than Hannity, let President Obama have it for his affiliation with Bill Maher— namely, that the latter donated a million dollars to the former's campaign. Accusing him for failing to "show respect as a man," Guilfoyle railed that, as leader of the country, President Obama owed it to women to condemn that language.

RELATED: Fox News' Kimberly Guilfoyle Predicts Obama Already Has Re-Election All Wrapped Up
Hannity began the segment noting that he had respect for Ted Koppel and Brian Williams and wondered why they held their silence on Ed Schultz, their colleague who called Laura Ingraham a "slut." He then played the clip, to which Guilfoyle reacted. "I cannot believe the gross hypocrisy," she argued, of those who attacked the right while "the hate speech [is] just spewing forward… [it] just comes off as violent."
Marshall, a liberal Democrat, noted that she too deplored the comments– "I'm a woman first before I'm a Democrat"– but "to me this is an issue mostly of men saying degrading things," and a problem with the culture, not the politics. After listening to a second clip– this time of Chris Matthews, Hannity noted that he found it disgusting (as well as Guilfoyle, who added that she could not fathom how that was "remotely close to journalistic standards"), but "I'm not going to cancel my HBO subscription because of Bill Maher." Marshall made the point that Rick Santorum didn't return the donation from Foster Friess after his aspirin-between-the-legs joke, but Hannity did not see the comparison, and told the President, "don't lecture us," if he insisted on keeping the money.
Guilfoyle ended the segment with a barnburner, arguing the President "went willingly, eagerly to attacking anybody on the right" and then acted out "a complete abdication of leadership and showing respect as a man. He is the President of the United States, not a talk radio host, not a talk radio show host, not a television journalist," she argued, "show us the man that you are– that respects women, puts women first, and not campaign dollars."
The segment via Fox News below:

Have a tip we should know? tips@mediaite.com