Ana Navarro: Conway's 'Public Thrashing' of Romney 'Coordinated Trump Strategy' to Put Him in His Place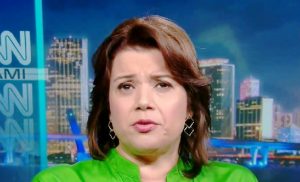 During a discussion on CNN this afternoon regarding the possibility of former Republican presidential nominee Mitt Romney serving as Donald Trump's Secretary of State, Republican strategist and CNN contributor Ana Navarro remarked on public criticism's of Romney by Trump loyalists.
Discussing Trump campaign manager and senior adviser Kellyanne Conway's interview earlier in the day where she slammed Romney over his qualifications and harsh statements about Trump during the campaign, Navarro noted that it appears that this is an effort within the Trump team to publicly punish Romney.
"It is pretty amazing to see the public airing of grievances," Navarro said. "It tells me he is not going to be a cabinet pick because they have been putting him in his place. They have been punishing him."
After commenting that she believes Conway is very sharp, Navarro observed that Conway wouldn't be doing this in interviews if it wasn't part of an overall strategy. She also brought up other Trump surrogates and advisers who have done the same thing.
"I think this kind of public thrashing — this tar and feather — of a possible cabinet pick is unseemly," Navarro exclaimed. "And I have a very hard time thinking that [Rudy] Giuliani, [Newt] Gingrich], [Mike] Huckabee and Kellyanne are out there questioning Mitt Romney's loyalty, Mitt Romney's qualifications, without it being a coordinated Trump strategy to put Mitt Romney in his place."
"Let's remember, Trump can hold a grudge," she added. "He has shown to be petty in the past."
Watch the clip above, via CNN.
[image via screengrab]
–
Follow Justin Baragona on Twitter: @justinbaragona
Have a tip we should know? tips@mediaite.com