Ana Navarro on Rubio's Evangelical Debate Pandering: He Came Close to 'Speaking in Tongues'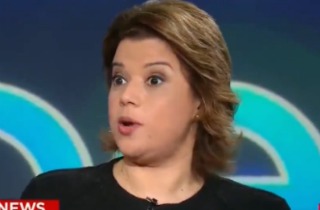 Tonight after the GOP debate, CNN's Anderson Cooper assembled a panel to review the high and low points of the evening. Among those in attendance was one of Donald Trump's cable news foes: Republican strategist Ana Navarro.
Navarro had a few observations to share when the topic turned to fellow Floridian Marco Rubio. When Gloria Borger brought up Rubio's questionable authenticity and off-putting intensity, Navarro agreed that those aspects need refining, but said "that's just his personality."
"He's not only trying to take votes from Jeb Bush; he's also squarely going after the Evangelical votes," she went on, being met with a chorus of variations on "yes" and "absolutely" from her fellow panelists. "It was all he could do but start speaking in tongues."
Rubio found a way to turn many of his answers into poetic displays of faith tonight. With four days to go before the Iowa caucus, it is clear that he is ramping up his already-strong efforts to win the Evangelical vote.
Other pundits have taken notice of his strategy, too:
Invoking Christ as his savior in an earlier answer-speaking to faith just now- @marcorubio going right after @tedcruz base. #GOPDebate

— David Axelrod (@davidaxelrod) January 29, 2016
I've seen plenty of naked pandering by pols in my time, but Rubio's palaver about faith being his guide rises to the top.

— Clyde Haberman (@ClydeHaberman) January 29, 2016
Rubio getting weird about "eternity with my creator." Uh, shouldn't that be between you and your creator? Why in a public debate?

— Rick Newman (@rickjnewman) January 29, 2016
As debates over his credibility and too-rehearsed stump speeches rage on, only time will tell whether all of his efforts result in a caucus win on Monday.
[image via screengrab]
For more from Lindsey, follow her on Twitter.
Have a tip we should know? tips@mediaite.com