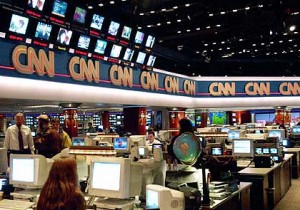 Earlier this week, CNN's Wolf Blitzer broke the huge story of Herman Cain's alleged extramarital affair in such dramatic fashion, the tick-tock timing almost seemed too perfect. Although some details had already been reported, we wondered how Herman Cain just happened to be in the right place, at the right time, to get out in front of WAGA Fox 5 Atlanta's Ginger White interview, and how CNN managed to scoop the local station so completely. A CNN source told us how it all went down.
There were a few things about the way CNN broke this story that raised questions, such as the way Wolf Blitzer teased a "Breaking News" development at the end of his first segment with Herman Cain, and frankly, Cain's willingness to discuss the forthcoming allegations. It seemed as though the Cain campaign might have deliberately manipulated the appearance to preempt the WAGA story.
According to our CNN source, though, this was a case of "better to be lucky than good." (I think Lucky Luciano said that.) Cain's appearance on The Situation Room was worked out a week earlier, thanks to some good old fashioned legwork by Wolf Blitzer himself. At last week's debate, "Blitz" asked Cain when he might Situate himself in Wolf's Room again, and Cain set the Monday appearance in motion then.
Right before Cain arrived at CNN's Washington, DC studios, the entire bureau was abuzz about this mysterious, much-retweeted tweet, from WAGA reporter Justin Gray:
Political junkies tune in to @fox5atlanta at 6 tonight. I-Team is gonna break a story with HUGE implications on the Presidential race!
At the time, no one suspected that Herman Cain might be the subject of the tweet, but it had tongues wagging as Cain got ready to go on the air with Wolf Blitzer.
As Blitzer began his first of three segments with Cain, the candidate's staff got wind of the cryptic tweets coming from WAGA, and since the station contacted them earlier Monday, likely put two and two together, realizing that the Ginger White story would break at 6pm. One of Cain's staffers alerted CNN's guest booker that the story of the alleged affair would be coming out.
The show's producers then called CNN's Washington, DC bureau chief Sam Fiest, who would need to greenlight any story of this magnitude. Feist rushed down to the green room to speak to the Cain staffer, who told Fiest that his candidate would, indeed, be willing to talk about the allegations to come.
Just before that first segment ended, producers told Wolf Blitzer (who was still unaware of the new allegations), through his earpiece, to tease the breaking news. During that commercial break, as HuffPo's Mike Calderone has previously reported, Blitzer asked Cain about the WAGA report, and the candidate said that he was aware of it, and would be willing to answer questions about it.
The rest, as they say, is history. Cain explained that allegations of an affair, by an unnamed "acquaintance," were forthcoming, and denied having an improper relationship. Shortly thereafter, Ginger White's interview aired on WAGA, alleging a 13 year affair with Herman Cain, and Cain attorney Lin Wood sent WAGA what is probably the least helpful statement in the history of statements, noting that "this appears to be an accusation of private, alleged consensual conduct between adults – a subject matter which is not a proper subject of inquiry by the media or the public."
Now, the candidate is "reassessing" whether he will remain in the presidential race, while political pundits predict that Cain's support, strangely, will shift to Newt Gingrich.
While there have been many explosive stories this election cycle, to anyone in the news business, the way this story came about is a nostalgic throwback to the dramatic, ink-stained, "stop the presses" scoops you see in movies.
Have a tip we should know? tips@mediaite.com