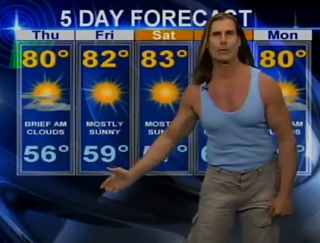 Sunny with a chance of cool, romantic breeze and long, flowing blond locks dimly lit in candlelight: this, for some reason, was the local news forecast in the Portland, Oregon metro area this week, as KOIN5's meteorology department appeared to have been hijacked by Fabio, the romance novel and "I Can't Believe It's Not Butter" who occasionally pops up on Fox News to warn against the perils of the socialist Obama administration.
Fabio has been on a bit of a roll lately, after starting a promotional war with current Old Spice Guy Isaiah Mustafa that inexplicably seems to have led to a guest stint on the CBS affiliate's local news. There are people watching TV wondering about the hot or cold or dry or raining it may be outside. It' me, Fabio," Fabio offers helpfully, before giving a forecast of "very sunny today, and it feels so nice on Fabio's skin." The promotion also seems to have given him a Bob Dole complex.
Anyway, the forecast goes on predictably, with an apology to Canada because the "very romantic Fabio hair [is] blowing lots and lots of wind, blowing and pushing the stormfront into Canada." He also recommends the ladies "sit back and enjoy in your comfortable pants" and suggests they "snuggle up with the man of your dreams, even Fabio."
Again, there is no reason for Fabio to have been in Portland, Oregon, or for him to be giving local weather. Not that there usually is a reason for Fabio doing what he does, but this meteorology report adds a whole other layer of complexity to the performance art project that is his life.
Fabio's foray into local news via KOIN5 Portland below:
Have a tip we should know? tips@mediaite.com