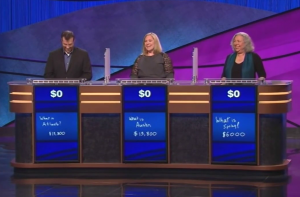 For only the fourth time in the show's 32-year history, no one won Jeopardy! Monday after all three contestants bet all their winnings and guessed incorrectly.
The Final Jeopardy question: "A 1957 event led to the creation of a National Historic Site in this city, signed by a preident whose library is now there too."
The three contestants guessed, "What is Atlanta?", "What is Austin?", and "What is Springf-" (intended to be Springfield). The correct answer was Little Rock, Arkansas, with the historic event being the forced integration of public schools and the president being Bill Clinton.
"We have three players finishing with no money," host Alex Trebek announced. "And what that means, ladies and gentlemen is that we'll have no returning champion. We'll introduce three new players tomorrow. So, sorry folks."
[Image via screengrab]
——
>>Follow Alex Griswold (@HashtagGriswold) on Twitter
Have a tip we should know? tips@mediaite.com