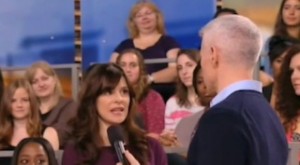 On his daytime show today, Anderson Cooper got to the bottom of a serious phenomenon plaguing America: psychic addiction.
Cooper, the Emmy-award winning journalist, who was previously renowned for his hard-news reporting in places like Haiti seemed to wade closer to Maury Povich territory than he's ever gone before with the lurid segment. He spoke with psychic addiction expert Sarah Lassez who told Cooper she became so dependent on her psychic she called 10 times a day.
"This is very frustrating for me," Lassez, a French-Canadian actress turned self-help guru lamented. "This is really a very serious problem, and it's the only addiction that really isn't recognized, and it's hilarious! It sounds ridiculous, you know. Who becomes addicted to psychics? But I couldn't get through a day without calling. At my worst, I called 10 in a day. I completely lost my mind. I run a support group now, I have over a thousand members who are writing to me who are desperate!"
Cooper, incredulously asked Lassez, "What made you finally realize this is not real – or this is not working for me?"
"I hit rock bottom, like I was a drug addict!" she said. "I looked like a drug addict! Granted, I was going through a break up, but I was calling psychics all day long, like is he coming back?"
"This was your drug?" Cooper asked. "I would get a high!" Lassez exclaimed.
Cooper had said in interviews before his show first launched that he wanted to become the next Oprah. He started out promising with his interview with Amy Winehouse's parents, but appeared to go on a downward spiral towards trash TV with getting a tan with Snooki. And with tawdry segments like this one, he appears to be ever closer to saying "you are…NOT the father" than "you get a car".
Watch the segment below, via Anderson:

Have a tip we should know? tips@mediaite.com