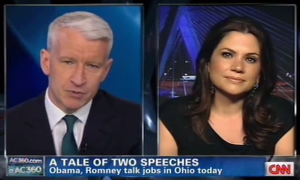 On Thursday night, Anderson Cooper aired his interview with Mitt Romney's Communications Director Gail Gitcho, in which they discussed Romney's recent provocative comment about funding jobs for firefighters, teachers and police — as well as examining President Obama's record. As Gitcho went to cite a Congressional Budget Office figure as an Obama promise, Cooper helpfully reminded her that CBO is a non-partisan office that the president has no control over.
Right off the bat, Gitcho said the Obama campaign is attempting to distract from Obama's comment that the private sector "is doing just fine." Cooper pressed her on Romney's remark that federal government doesn't provide the money for hiring firefighters, teachers and police. Gitcho replied that it's the local government that allocates the money and determines the hiring.
She then pivoted to Obama's stimulus, saying we need to look at the end result, the big picture. Happy to compare records, she said, "You've got President Obama where we have 40 straight months of unemployment above 8 percent, and he promised with the stimulus that it would be below 8 percent." Cooper replied that Obama didn't promise that.
"His CBO reported that," Gitcho said. "His CBO said that in a report."
"Right, but you guys keep saying he said that, when he actually didn't say that," Cooper pressed.
Gitcho responded:
Well, it's his administration. It's his report that came out because of his stimulus that he put into place. […] If you take a look at what Massachusetts was when Governor Romney took office, you had unemployment at 5.6 percent. When he left office, it was at 4.7 percent. Obama's record is just terrible. You have 40 straight months of unemployment above 8 percent when he said that it's supposed to be below 6 percent. In the CBO report. […] It's 8.1 percent and above, or 4.7 percent. Those are the two numbers that really matter.
"Isn't the CBO though nonpartisan?" Cooper asked. "You're saying — your campaign, Governor Romney, says this all the time. 'Obama said.' Obama did not say that. The CBO puts out a report, that's not the president's —"
Gitcho interjected, "Well, it's still a report that came out of his stimulus that came out of his administration, sure."
"Well, but, I mean, he doesn't control the Congressional Budget Office. He's not the one saying this stuff," Cooper said.
"Let's just look at the facts here," Gitcho replied, reverting to talking points about the economy not being on the road to recovery as Obama promised. Three years ago, she said, Obama said if he didn't fix the economy he would be looking at a one-term proposition. Now, she said, he's "asking for a do-over."
As BuzzFeed notes, Obama spokesperson Lis Smith was quick to jump on the interview:
Oh wow, @ggitcho really stepped in it on @AC360. Falsely attributes a report to CBO, then doesn't know what the CBO is. #bruuuuutal

— Lis Smith (@Lis_Smith) June 15, 2012
A flabbergasted @andersoncooper explaining the CBO 2 @ggitcho: "Isn't the CBO nonpartisan?…[POTUS] doesn't control the CBO!"

— Lis Smith (@Lis_Smith) June 15, 2012
The Washington Post's Fact Checker previously tackled Romney's attributing the projection to Obama, deeming it a "misleading assertion."
The segment, via CNN, below:

Have a tip we should know? tips@mediaite.com