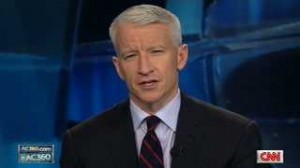 On AC 360 Thursday night, Anderson Cooper spotlighted the "jailbait" section of the social link-sharing website Reddit.com, which features photographs of under-age teenagers.
"Somebody somewhere is looking at sexually suggestive photos of your teenage child and you might be just as surprised to learn where these pervy grownups find the images. They're posted on a site that's part of one of the most respected publishing empires on Earth. We're talking about a site called Reddit." Cooper noted that the site has grown big enough to become its own division, side by side with Conde Nast, but still the same corporate parent.
Cooper called the posting of these photos creepy, and was curious why nothing was being done to protect the privacy of the subjects in the images.
"Reddit is uninterested in stopping them, even though it boasts on the corporate blog the good it is doing for the world," he said.
Cooper asked CNN Senior Legal Analyst Jeffrey Toobin if the "jailbait" section of Reddit was legal. "I didn't see anything illegal," Toobin said. "Is it in good taste? Is it appropriate for this or any company to be involved? That's a very different question…but it could result in a civil lawsuit, and obviously was not in good taste."
Sunny Hostin, legal contributor on truTV, disagreed with Toobin's legal assessment. "I think it's borderline kiddie porn. It's very close to the line and the bottom line is that the First Amendment doesn't protect child porn. So, they are really straddling that line. Also, even if they aren't, don't we want them to be good corporate citizens? What happened to decency? What happened to corporations doing the right thing? Why would you have a website that sexualizes young girls? I looked at a lot of the pictures and i thought they were very, very close to the child porn line."
"Something has to be done about it," Hostin added.
The segment created an uproar among many users of the Reddit community.
Nightbane wrote, "Anderson Cooper has just tainted us all."
"Anderson Cooper discovers the internet is not all roses…" NinjaDiscoJesus lamented.
Khiva thought Cooper had a point. "Jailbait has been a creepy embarrassment for some time, though it's an open question as to what (if anything) should be done about it. At a certain point in a site's growth it's going to have to choose between chaotic, free-form openness (a la 4chan) and all of the detritus that attracts (a la 4chan) or shed its nastier excesses for mainstream acceptability."
Watch the segment below, courtesy of CNN:

Have a tip we should know? tips@mediaite.com