Anderson Cooper Finds Radical Islamic Threats On South Park Team 'Chilling'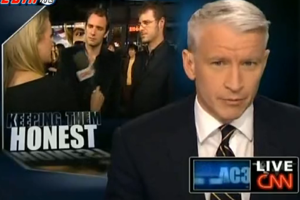 Anderson Cooper took a rare break from his objective anchor personality tonight to comment on the threats from a radical Muslim group on the welfare of the creators of South Park for making fun of the fact that it is prohibited in Islam to render physical depictions of the Prophet Muhammad.
In what sounded the closest to a Countdown Special Comment than anything on AC360 before, Cooper called the threats against the South Park creators "chilling," and drew a clear line between finding the oft-crude humor of South Park unpleasant or finding it an affront to humanity:
"We live in a country which prides itself on its freedom of speech, in which we can say whatever is in our hearts, in our minds, as long as it's not threatening to someone else– as long as it's not calling for violence against somebody else. Now, you might not like South Park the cartoon, you might think it's offensive, you might decide it's not something you want to watch– that's up to you. But the notion that some radical Islamic group in America would make a threat, even a veiled one, against two men's lives because of it is chilling. And for the people making this threat, that is precisely the point– to chill discussion, to chill debate."
Ok, so not exactly a Special Comment, but that's pushing the opinion envelope for someone like Cooper. He continues to show the clip and comment almost dismissively, "that's what they are angry about– a bear suit," and show the threat on the South Park team, as well as a crash course on famous cases of Muslims taking offense at a critique of their religion.
Watch the clip below:

Have a tip we should know? tips@mediaite.com