Anderson Cooper Gets Heated With GOP Rep. Over Benghazi: 'What You're Saying Is Factually Not Correct'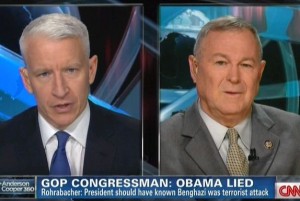 Anderson Cooper invited Republican congressman Dana Rohrabacher on tonight to defend his position that the Obama administration engaged in widespread lying and covering-up of the terrorist attacks in Benghazi. Cooper pressed Rohrabacher to explain what exactly the White House lied about and what proof he has to make such a claim. Cooper repeatedly got frustrated with Rohrabacher and told him, "what you're saying is factually not correct."
RELATED: Bill O'Reilly: Could Benghazi Be Obama's Watergate?
Rohrabacher cited the administration's early claims about the movie Innocence of Muslims having to do with the violence, which was proved as false at the time. Cooper told Rohrabacher he was being untruthful, citing a statement by the Director of National intelligence explaining all the information they received leading to that possible conclusion, but Rohrabacher brushed the response aside.
He cited David Petraeus's testimony from today that the administration knew right away it was a terrorist attack, which Cooper immediately responded to by saying that Petraeus gave a very different testimony two days after the initial attack. Rohrabacher continued to insist the Obama administration knew it was a terrorist attack on day one, while Cooper continued to insist that he was just repeating untrue statements. Rohrabacher told Cooper he was misinterpreting the testimonies of Petraeus and the director of national intelligence.
WIth Rohrabacher continuing to criticize the misleading over the intelligence, Cooper admitted he was trying to figure out his logic, which Cooper said was basically an indictment of what the director of national intelligence said. Rohrabacher scolded Cooper for putting words in his mouth, telling him "that is your conclusion based on… you're trying to ome to that conclusion." Cooper responded by pointing out that Rohrabacher keeps shouting over him.
Cooper directly asked Rohrabacher why he thinks the president of the United States, the United Nations ambassador, and the director of the CIA would all lie to the American people when the truth was bound to come out eventually. He said the alternate explanation is that they were all just given erroneous intelligence and spun it as it was given to him. Rohrabacher said a cover-up is much likelier than widespread incompetence in the entire intelligence community.
Watch the video below, courtesy of CNN:
—–
Follow Josh Feldman on Twitter: @feldmaniac
Have a tip we should know? tips@mediaite.com
Josh Feldman - Senior Editor