Anderson Cooper Goes After 'Anonymous Internet Trolls' Pushing Conspiracies About Newtown And Gun Control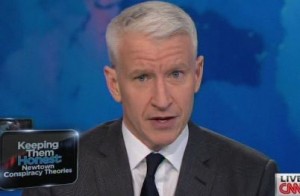 Last week Anderson Cooper took on some of the more ridiculous conspiracy theories about the tragic Sandy Hook shooting, one in particular claiming that the shooting simply never happened. But tonight, Cooper took on perhaps one of the most shocking theories of all: the whole shooting was a gigantic conspiracy to take away people's guns.
RELATED: Anderson Cooper Tackles 'Sickening,' 'Ignorant' Newtown Conspiracy Theories
Cooper reminded viewers of the Florida professor who has been pushing the conspiracy theories, and revealed that said professor reacted to his initial report with a blog post attacking Cooper for "wanting to cause him harm." Cooper said that the professor has his rights to free speech, and just wanted to hold him accountable for his comments. The professor is also part of a growing conspiracy that the media is falsely reporting on the shooting in a concerted effort to take away people's guns.
Cooper patiently debunked theories about the media coverage of the shooting, and brought on two guests, one of whom was the family member of an Aurora shooting victim, to address the conspiracies. Cooper pointed out much of the evidence cited is based on initial reporting, which Cooper admitted can often be inaccurate. Alex Seitz-Wald said many conspiracy theorists are taken in by confirmation bias and ignore any evidence that contradicts their conspiratorial beliefs.
Cooper noted that people closely tied to the shooting are being harassed by individuals convinced they're part of an evil conspiracy. Jordan Ghawi, the brother of one of the Aurora shooting victims, explained how people have been accusing him of being an actor trying to help the government push for more gun control. He said these people are dangerously disturbed and shouldn't be the kind of people who have guns in the first place.
Cooper found it "offensive" that these "anonymous internet trolls" would doubt the believability of a grieving parent.
Watch the video below, courtesy of CNN:
—–
Follow Josh Feldman on Twitter: @feldmaniac
Have a tip we should know? tips@mediaite.com
Josh Feldman - Senior Editor