Anderson Cooper Helps Nancy Grace Solve The Case Of Her Missing Handcuff Necklace In Hilarious Segment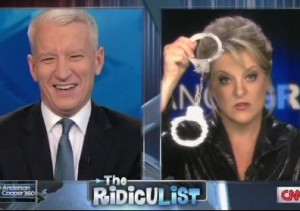 Take Anderson Cooper, add a pinch of Nancy Grace, create a juicy mystery of a missing piece of jewelry, and throw in some awkward banter about S&M dungeons, and you've got one of the most hilarious segments you may ever see on CNN. Grace's handcuff necklace has gone missing, and tonight Cooper tried to help her figure out what happened, though Grace had her suspicions that Cooper himself may in fact be the scoundrel she is looking for.
Cooper showed a clip of himself admiring Grace's unique jewelry just a few weeks ago before bringing Grace herself on to offer his condolences. Grace immediately went into lawyer mode, accusing Cooper of having a "very unusual interest" in her necklace. Cooper nearly cracked up as Grace withdrew an actual-sized pair of handcuffs from her jacket.
Cooper tried to help Grace figure out where she might have left the necklace, and confronted her about her accusation on Twitter earlier in the day that Cooper may have been the thief. Grace said she only suggested it, pointing to Jeffrey Toobin as another possible culprit. However, her prime suspect is currently criminal defense attorney Mark Geragos, who, like Toobin, was on Cooper's show with her a few weeks ago.
Cooper then asked if Grace bought it at an S&M dungeon. Grace's confusion over exactly what that was elicited laughs from Cooper. She swore that she would find the thief and handcuff them herself. Copper ended the segment saying deadpan that his show will devote every single resource to finding the thief and bringing them to justice.
Watch the video below, courtesy of CNN:
Have a tip we should know? tips@mediaite.com
Josh Feldman - Senior Editor