Anderson Cooper Interviews His Hero Phil Donahue While Dressed Up As Phil Donahue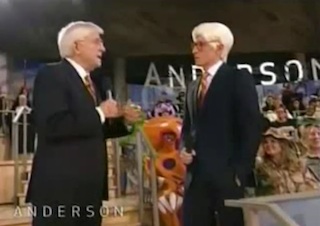 With Halloween falling on a Monday this year, we've seen some pretty good costumes from the TV crowd. And, while the Today hosts went especially all out, Anderson Cooper's costume, although simpler, was perhaps more amusing. Cooper dressed as one of his heroes and the host who's show inspired his own, Phil Donahue. Cooper then went further, having Donahue himself appear to give his blessing to his spiritual descendent.
While this could have turned into one of those lame SNL bits where the real person meets the actor in costume, but it was helped by Cooper's genuine enthusiasm. He asked Donahue how he had the energy to do his show for 29 years. Donahue explained how much he loved doing it.
"I don't miss the day to day of it, but I wouldn't trade it for the world. I was very, very fortunate. Man, we met everybody. Y'know, celebrity singers, actors, people going to jail, political figures – sometimes they were the same person. But it was a wonderful run and I wish you well. You're going to have a great time and you're going to meet some nice people. This is as wonderful a way to go through life as can be."
It was all fun but there was one really odd part. At the end of the segment, Cooper jokes about how hard it was to find an all white men's wig. Um…why on earth did Anderson Cooper need a wig for that?
Watch the clip below:
Have a tip we should know? tips@mediaite.com