Anderson Cooper Mercilessly Mocks Trump and Mimics 'Islamophobe-in-Arms Jeanine Pirro'
Anderson Cooper took aim at President Donald Trump for his recent criticism of Fox News during his Ridiculist segment on Monday night. Yet, the CNN host reserved his more brutal snark for Fox News' Jeanine Pirro, who he referred to as "that Amtrak seatmate you just can't get away from."
On Sunday, Trump tweeted out this, slamming Fox News' Chris Wallace:
Cooper did not think kvetching about Wallace paying attention to another 2020 candidate was the president's most mature moment.
"Tonight the world's biggest most elegant cable news fan has his gotten his foxy-loxy tail in a twist," Cooper said. "That's right, President Trump, a man that thinks journalism is an hour-long phone call where Sean Hannity spoon feeds him topics like pre-chewed cream of wheat is on a tirade against his most favorite network. Their offense, Fox's actual news division — and not their morning zoo crew or primetime propaganda pact — invited a Democrat to appear on their air."
Then in his best overwrought teen voice, he read part of Trump's tweet.
"Does that sound like a jealous 15-year-old boy to you Snapchatting his bestie late at night?" Cooper snarked when he was done.
"Oh the betrayal when the network you love and rely on for advice and support suddenly gives a platform to someone else and they give him a standing ovation," Cooper continued on, his voice dripping with sarcasm.
Then after reading more of Trump's "mean boy" tweet, Cooper giggled awkwardly as he said he imagined Trump did after he tweeted.
Then said this: "Here's how blind President Trump's devotion is to Fox News. He thought it would be good to air opposite the Game of Thrones finale."
Finally, Cooper's scorn turned towards Pirro, "the president's Islamophobe-in-arms."
He started by playing a clip of Pirro's most recent open while mocking her facial expressions on a split screen.
Then when the clip ending, Cooper snarked: "Wow, who wrote that…biting!"
Watch above, via CNN.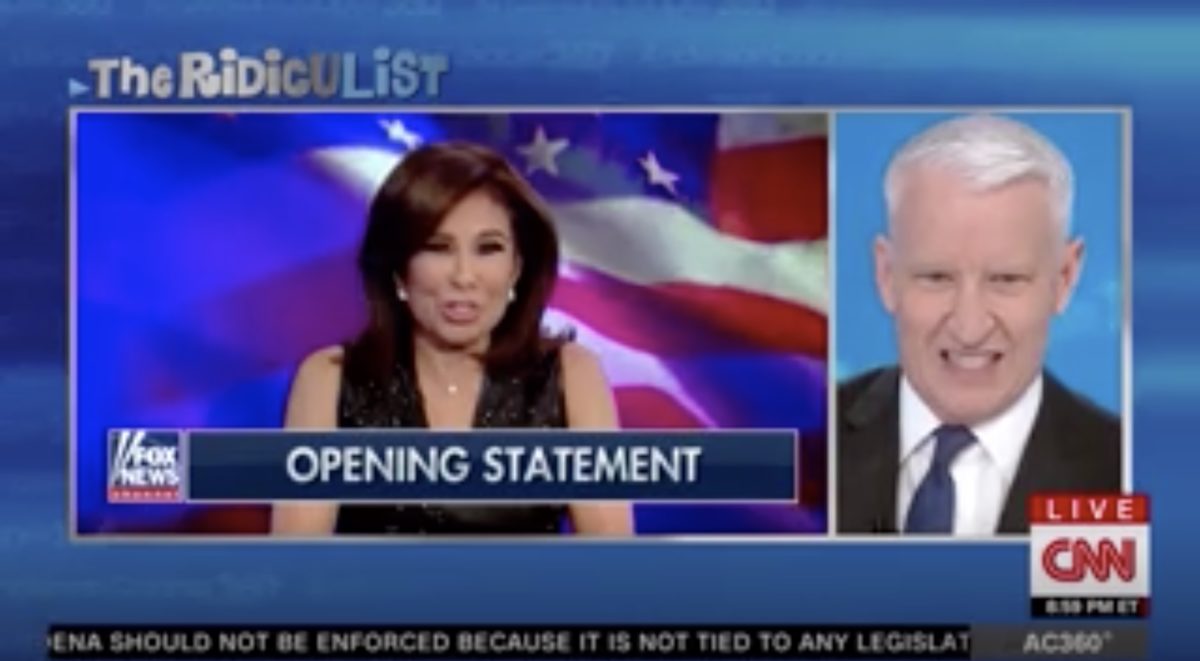 [image via screengrab]
Have a tip we should know? tips@mediaite.com