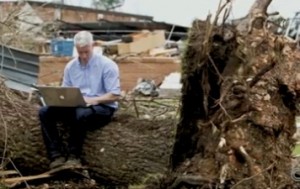 We are big fans of Anderson Cooper and have often lauded his best-in-the-business reportage, particularly moments in crisis and disaster. But even though he is privately considered "one of the good guys" in cable news, he is not above reasonable criticism, and some of his detractors point out that Cooper is sometimes guilty of making the story about…well, Cooper. Take, for example, the following segment that aired last night produced for the AC360 website, which focused on how he copes with the tragedy surrounding him in Joplin, and turns it into a story for you, the viewer at home.
It's not that the concept behind the following clip is entirely off. In fact, I imagine that there are a lot of viewers who are very interested in how reporters deal with this sort of human tragedy in a way that finds the right balance between empathy, and a dispassionate mien that allows for an actual report. The problem with the following clip, though, is in its execution: the acoustic guitar music bed — combined with the teenager confessional style interview and moving stills of Cooper, assaying the damage and writing on his Mac Powerbook — well, it all adds up to a remarkably stilted and cloying segment.
It's worth repeating that, in at least this writer's esteem, Cooper deserves his place as a well-regarded personality and reporter, particularly on the stories that feature such unfathomable tragedy. And yes, the story of how these stories get reported is an interesting one. But these sorts of stories are best told by a third-party reporter, lest they feel like self-absorbed catharses that serve the reporter more than the story.
Now allow me to go back to the very dangerous and highly visible job of editing a blog and criticizing things I don't know about.
Have a tip we should know? tips@mediaite.com