Anderson Cooper Responds To State Department Criticism Of CNN Over Late Ambassador's Journal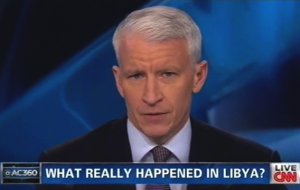 Last Friday, Anderson Cooper acknowledged that CNN obtained the journal of Ambassador Christopher Stevens, who was killed amidst the violence that broke out in Libya two weeks ago. The State Department released a statement over the weekend saying CNN's actions were "disgusting" and "indefensible." Cooper responded on his show last night in his "Keeping Them Honest" segment, defending the reporting of the journal's contents on his show.
RELATED: State Department Calls CNN 'Disgusting' For The 'Indefensible' Airing Journal Of Amb. Chris Stevens
Cooper opened the segment by emphasizing that the main point was to look into "how well or how poorly the U.S. government handled its responsibility to protect" Stevens and the three other Americans killed in Libya. He acknowledged that becoming part of the story is something no journalist ever wants to be, saying the focus should be on the four dead Americans and what the State Department knew about the situation beforehand.
Cooper quoted the State Department official who said CNN's reporting was "indefensible," and proceeded to defend how CNN handled the reporting of the journal's contents. He said that nothing in Stevens' journal was directly quoted, nor were its contents e-mailed around the CNN newsroom. The significance of obtaining the journal mere days after the violence broke out in Libya, Cooper argued, was that it seemed to refute the Obama administration's claims that the violence was in response to the anti-Islam film Innocence of Muslims, and instead may have been a "deliberate terrorist attack."
Cooper made it clear that Stevens' family was notified hours after CNN obtained the journal, and in order to make sure the journal was not their only source, CNN found three other sources to confirm what Stevens had written. Cooper explained why CNN felt the journal was significant enough to report on in the first place.
"This was not broadcasting gossip from the pages of someone's diary. This was not reporting salacious details of someone's private life. This was reporting information that could impact the national security of the United States and the safety of U.S. installations in other countries… We think you need to know what happened to U.S. personnel in Benghazi."
Watch the video below, courtesy of CNN:
—–
Follow Josh Feldman on Twitter: @feldmaniac
Have a tip we should know? tips@mediaite.com
Josh Feldman - Senior Editor