Anderson Cooper Slams Star Jones For Saying His Coming Out Was A Ratings Ploy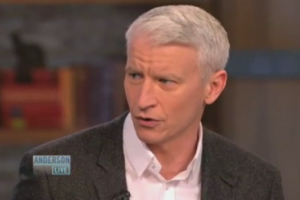 During a segment on his talk show on Thursday, Anderson Cooper (alongside Bravo's Andy Cohen) slammed Star Jones for saying Cooper's coming out this past summer was a ratings ploy. Alerted to Jones' comments by his mother (Gloria Vanderbilt), Cooper proceeded to both mock and criticize Jones.
Cooper, you'll recall, came out in an email to Andrew Sullivan, which Sullivan published with permission on his blog.
Cooper's rant of sorts was brought on by Cohen asking if Cooper felt any different after publicly revealing he is gay.
"I will say — and I actually haven't mentioned this — the only thing that did kind of annoy me and actually it annoyed my mom who brought it up to me, Star Jones of all people," Cooper said. "I haven't thought about Star Jones in I don't know how long. I was unaware she was on TV still."
"If I was wanting to boost ratings, I would have waited to announce it on a 'very special episode' that would have been promo-ed for weeks and weeks," Cooper mocked.
Cohen looked thoroughly amused as Cooper continued, taking a swipe at Jones:
As memory serves, in terms of boosting ratings, I seem to recall [Star] hocking her wedding every single day to get free products when she was on 'The View' and I seem to recall her lying about her gastric bypass surgery and making everybody else lie about it as well. So for her to suddenly emerge out of the shadows and suddenly attack me for this, I couldn't believe it.
But tell us how you really feel, Anderson.
The segment below:

(H/T TMZ)
Have a tip we should know? tips@mediaite.com