Anderson Cooper Tears Into Wasserman Schultz For 'Misquoting' Article In Fundraising Email
Cooper Tears Into Wasserman Schultz For 'Misquoting' Article In Fundraising Email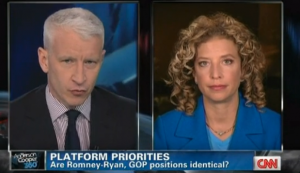 On Thursday night, Anderson Cooper in his "Keeping Them Honest" segment confronted Democratic National Committee Chair Debbie Wasserman Schultz for "misquoting" the Los Angeles Times in a fundraising email that sought to link Mitt Romney's abortion stance with Rep. Todd Akin's. Repeatedly challenging her assertions, Cooper asked her to acknowledge the incorrect quote. Schultz refused.
The email said the GOP "just voted to embrace Akin's position by including a constitutional ban on all abortions — even in cases of rape or incest — in their 2012 platform." Then, Cooper noted that Schultz calls out Romney and Paul Ryan for "saying they don't entirely agree with that plank," and moved on to the LA Times quote the email cited to back up the point:
"…but guess what? The Los Angeles Times reported yesterday that the platform was, and I quote, 'written at the direction of Romney's campaign.'"
While those quoted words did appear in the Times, Cooper said, they were taken "completely out of context." For reference, the portion in question from the Times (emphasis mine on the quoted bit):
There is no doubt about who is in charge, of course. Delegates for presumptive nominee Mitt Romney are voting down substantive changes to the platform language that was written at the direction of Romney's campaign. The biggest question is whether the tone remains polite, as it was at the outset of two days of deliberations, or whether dissenters spoil the image of harmony that the Romney campaign is working hard to produce.
Cooper argued that the email uses the quote to make a point that the original statement doesn't suggest — and that the facts aren't quite solid: "First, the abortion language in the 2012 platform, it hardly differs from the 2008 language and the 2004 language in the platform. That language obviously wasn't written by the Romney campaign." Second, Cooper said CNN's Peter Hamby was in the room while the platform was being drafted, and Hamby said Romney advisers made a suggestions, but not on the abortion plan.
Turning to Schultz, Cooper confronted her with their attempts to tie the Romney/Ryan platform on abortion to Rep. Akin (given his recent controversy). He then asked whether she acknowledges that Romney does support abortion in cases of rape, incest and danger to the life of the mother. In response, Schultz fell back on her decided talking points, noting the need for voters to see the dramatic contrast between the two sides when it comes to women and their reproductive choices — and pointing to the GOP platform that makes no exceptions in its stance against abortion.
Cooper challenged her, reminding her that the email said the Romney campaign directed the writing of the platform. Factually speaking, he said, Romney did not design the abortion platform nor was it among the topics of suggestions the campaign made.
Pressed further, Schultz acknowledged that Romney's stance on the issue differs from his party's platform, but she argued that he talks the talk and "certainly doesn't walk the walk." Upon her asserting that he's "embraced his party's platform," Cooper again came back to the issue of the misquote — further egged on by Schultz's nonchalant response: "It doesn't matter."
"It does," he said. "I don't understand why you would need to do that."
After a bit more of Schultz driving her point about the contrast between the two candidates, Cooper asked whether she acknowledges that the quote in the email is "completely incorrect."
"No, I don't acknowledge that," Schultz replied, adding that Romney "can't separate himself" from the GOP platform. A visibly frustrated Cooper told her, "He has."
The segment below, via CNN:

Have a tip we should know? tips@mediaite.com