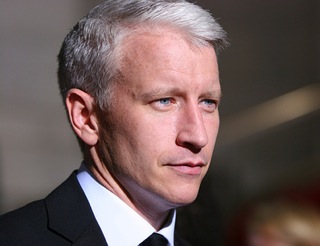 Anderson Cooper has made it official that he is gay in a letter to Andrew Sullivan the latter published with permission today at his blog. The letter, which explains why he hadn't said it out loud before, notes that "there is value in standing up and being counted," and he explains that his work as a journalist is a separate issue from his sexuality.
RELATED: Obama Campaign Spokesman Woefully Unprepared For Anderson Cooper
Sullivan explains in his note that he himself thinks that "it does matter nonetheless, it seems to me, that this is on the record," and that "the visibility of gay people is one of the core means for our equality." To that end, he contacted Cooper, who replied with a letter that made it clear he was gay.
In Cooper's fairly extensive letter, he explains that much of the reason he had maintained privacy was for safety reasons– that going into war zones, not having a high profile was an asset. "For my safety and the safety of those I work with, I try to blend in as much as possible, and prefer to stick to my job of telling other people's stories, and not my own. I have found that sometimes the less an interview subject knows about me, the better I can safely and effectively do my job as a journalist," he writes. He then explains that he finds recently that not speaking about his private life has made it appear that he didn't want to out of something other a desire for personal privacy, and for that, he made it clear:
Recently, however, I've begun to consider whether the unintended outcomes of maintaining my privacy outweigh personal and professional principle. It's become clear to me that by remaining silent on certain aspects of my personal life for so long, I have given some the mistaken impression that I am trying to hide something – something that makes me uncomfortable, ashamed or even afraid. This is distressing because it is simply not true.

I've also been reminded recently that while as a society we are moving toward greater inclusion and equality for all people, the tide of history only advances when people make themselves fully visible. There continue to be far too many incidences of bullying of young people, as well as discrimination and violence against people of all ages, based on their sexual orientation, and I believe there is value in making clear where I stand.

The fact is, I'm gay, always have been, always will be, and I couldn't be any more happy, comfortable with myself, and proud.
"In a perfect world," he continues, "I don't think it's anyone else's business," he continued, explaining that he was "not an activist, but I am a human being and I don't give that up by being a journalist." He concludes that he is happy to share more thoughts, but "I hope this doesn't mean an end to a small amount of personal space."
You can read the whole letter at Sullivan's Daily Dish.
Have a tip we should know? tips@mediaite.com