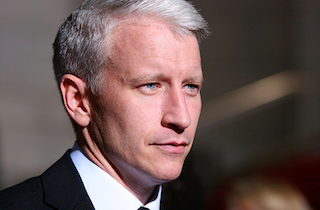 In an interview with Howard Stern, Anderson Cooper revealed that he won't receive any money from the vast fortune of his heiress mother Gloria Vanderbilt when she dies.
According to Cooper, his mother, the great-great-granddaughter of tycoon Cornelius Vanderbilt, is worth nearly $200 million, which is money he will never, ever see. "My mom's made clear to me that there's no trust fund. There's none of that," he told Stern, adding that his own father (author Wyatt Emory Cooper) was born from a poor family in Mississippi and that he took his work ethic from him. Psh. That's something that only someone with a prominent career as an international news anchor making roughly $11 million a year would say. Plebe.
"I don't believe in inheriting money," he added. "I think it's an initiative sucker. I think it's a curse. Who's inherited a lot of money that has gone on to do things in their own life? From the time I was growing up, if I felt that there was some pot of gold waiting for me, I don't know that I would've been so motivated."
Cooper says he's "doing fine on [his] own" and doesn't need any more money. Rather embarrassingly, the New York Post uncovered that he only has two houses, and only one of them is in the Hamptons.
To be worth anything in this world, dears, you need at least eight houses, and four of them must be in the Hamptons. One in Southampton, two in Sag Harbor, and perhaps one in that slum known as Amagansett.
[NYPost]
Have a tip we should know? tips@mediaite.com