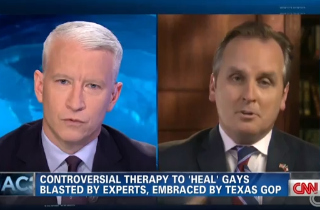 For his "Keeping Them Honest" segment on Wednesday evening, CNN's Anderson Cooper confronted Texas Republican State Rep. Bryan Hughes over his party's stated platform support for so-called "gay conversion therapy."
Last week, the Texas GOP platform committee voted to support "reparative therapy" by stating that no law or order shall be imposed to restrict access or ban the controversial therapy practice. Cooper confronted prominent Texas GOPer Hughes not just on the point that no one's actually banning the practice in Texas, but also on the preponderance of medical experts who suggest the therapy is outright abusive and harmful.
When Hughes suggested that medical literature supports "both sides" of the debate, Cooper shot back that he could give a list of major medical organizations and doctors who find the practice harmful. He then actually listed off the names — "The American Academy of Pediatrics, the American Counseling Association, the American Psychiatric Association, the American Psychological Association, the American School Counselors' Association, the National Association of School Psychologists, National Association of Social Workers. They represent half a million mental health professionals" — as Hughes smirked.
Cooper also confronted Hughes with an older clip of Exodus International leader Alan Chambers telling the CNN host he now regrets having once supported gay conversion therapy, especially because it often characterizes gay people as less worthy in the eyes of God.
"No one is saying that God doesn't love people as they are," Hughes said in response. "Every one of us makes mistakes, makes decisions we are not proud of."
"The fact that you view being gay, or you characterize it, as a mistake, or something that should be changed, really kind of maybe says more about your position than what your words actually say," Cooper shot back.
Watch below, via CNN:
[h/t HuffPost]
— —
>> Follow Andrew Kirell (@AndrewKirell) on Twitter
Have a tip we should know? [email protected]