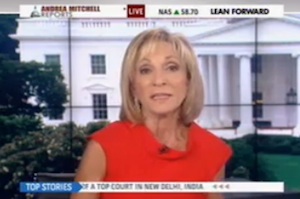 MSNBC dayside host and seasoned reporter Andrea Mitchell has just revealed live on MSNBC that she is now among the "one in eight women in the country" that is suffering from breast cancer. Mitchell returned to host her show after having Chris Matthews fill in for her yesterday and ended today's program by sharing a personal note of "how (she) spent her summer."
Michell revealed that the disease was discovered in the earliest of stages, and used her announcement as a means to both support breast cancer awareness efforts and to encourage her viewers to screen.
Mitchell calmly announced her personal news, saying:
Now, a personal note, or how I spent my summer vacation. I had planned to be hiking in Wyoming last week, but instead discovered that i am now among the one in eight women in this country incredibly, one in eight, who have had breast cancer. Mine was discovered during my annual screening just a short time ago. Luckily for me I am one of the fortunate ones. We discovered it in the earliest stage. It had not spread, and I'm already back at work with a terrific prognosis. supporting research for breast cancer, prevention and cures is a cause that has always been important to me. For years I've participated in the Susan G. Komen Race for the Cure and other events in solidarity with friends and other survivors. Now, my connection to that community is personal and much deeper. I'm looking at this as another of life's lessons. For you women out there and for the men who love you, screening matters. Do it. This disease can be completely curable, if you find it at the right time. As for me, I am incredibly grateful to my wonderful doctors and the nurses. To my husband and family, and to the loving members of my other family, my colleagues here at NBC and MSNBC and, of course, to you, my loyal viewers.
Have a tip we should know? tips@mediaite.com