Andrea Mitchell: Can't Use Hilary Rosen's Comment Against Obama Because 'His Wife Is A Homemaker'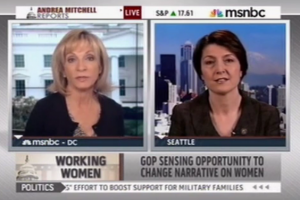 As the outrage over Hilary Rosen's remarks about Ann Romney continues, MSNBC's Andrea Mitchell tossed in her two cents. To those linking Rosen with the White House, Mitchell said that doesn't make sense. This controversy won't stick, she said, because President Obama's "wife is a homemaker."
About First Lady Michelle Obama, Mitchell said:
Let me just ask whether it's any more fair to blame Mitt Romney for what Eric Fehrnstrom said about Etch A Sketch — because he was an adviser, a staff member. And here you've got a case where, yes, she's a prominent Democratic woman, but she doesn't work for the campaign. She does not work for the White House. They immediately disavowed it. David Axelrod and Jim Messina immediately tweeted out that they disagreed entirely. Michelle Obama has tweeted she disagrees. She's a stay-at-home mom, so won't it be harder to make this stick against President Obama, when his wife is a homemaker and has not worked outside of the home?
Mitchell's guest, Rep. Cathy McMorris Rodgers (R), argued that this is just one comment among many from Democrats suggesting Republicans are waging a war on women. It's gone too far, she said.
As for Mitchell's own comment, President Obama himself recently referred to Michelle Obama having to juggle family and work because they didn't have the "luxury for her not to work."
"Once she gave me very good advice. That's why I decided to marry her," the president said on Friday. "And once Michelle and I had our girls, she gave it her all to balance raising a family and pursuing a career — and something that could be very difficult on her, because I was gone a lot."
So, it's not exactly accurate for Mitchell to say she "has not worked outside of the home."
Take a look, via MSNBC:

(H/T The Right Scoop; RealClearPolitics)
Have a tip we should know? [email protected]